---
To: All
The Fourth Joyful Mystery: The Presentation of Our Lord in the Temple
We are made in God's image and likeness and Christ came into the world to reveal man for fully to him (GS 22). We are radically in unity with Christ and, through Him, with each other. In this light, read the words of 3rd century Alexandria writer Origen (+254):
So, when He died, we died with Him, and when He rose, we rose with Him. Likewise, we were also circumcised along with Him. After His circumcision, we were cleansed by a solemn purification. Hence we have no need at all for a circumcision of the flesh. you should know that He was circumcised for our sake. Listen to Paul's clear proclamation. He says, "For in Him the whole fullness of deity dwells bodily, and you have come to fullness of life in Him, who is the head of all rule and authority. In Him also you were circumcised with a circumcision made without hands, by putting off the body of the flesh in the circumcison of Christ. And you were buried with Him through faith in the working of God, who raised Him from the dead." (Col 2:9-12) Therefore His death, His resurrection and His circumsion took place for our sake. [Homilies on the Gospel of Luke 14.1]
We discern in the Gospels an interesting pattern. The Second Person empties Himself of glory and becomes incarnate of the Virgin Mary. The eternal Word becomes a speechless child. He is lain upon the wood of the crib. He is pierced with metal and He sheds His Blood for our sake. The Incarnate Word Jesus Christ empties Himself of glory and enters His Passion. He stands mute before Pilate and the soliders. He is lain upon the wood of the Cross. He is pieced with metal and sheds His Blood for our sake. In each case He is bound to the Temple, first in His Presentation, finally when the lambs (which foreshadow Him) are being slaughtered in the Temple. All of this is for our sake.
Read more

---
To: All
The Fifth Joyful Mystery: The Finding of Our Lord in the Temple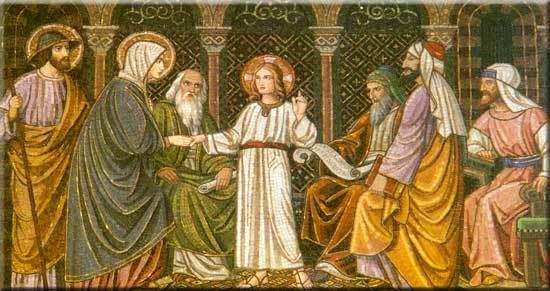 Pious Jews would go to Jerusalem for the Passover so that they could bring a lamb to the Temple to be sacrificed at the right moment on the right day. Jesus Himself would be nailed to a Cross and die during the slaughter of the lambs in the Temple while the priests lined the stairs to the altar and sang Psalms. In the quiet of the ancient world, when Jerusalem was still on that holy day, Jesus could probabaly hear the crying of the lambs and the psalms being sung. Did Jesus picture the scene as He was dying? He knew the Temple well, after all. The Holy Family travelled to the Temple at least one during the childhood of the Lord and Jesus wound up spending three days there.
Mary and Joseph lost Jesus for three days and found Him again in the Temple. Few hints of His childhood remain to us in Scripture. Thus, the Fathers thought they were filled with meaning. St Ambrose of Milan (+397) wrote:
The beginning of the Lord's disputation is takem from His twelf year. This number of the evangelists was intended for the preaching of the Faith. (cf. Mt 10:1-2,7) Nor is it idly that, forgetful of His parents according to the flesh, he who according to the flesh assuredly was filled with the wisdom and grace of God is found after three days in the Temple. It is a sign that He who was believed dead for our Faith would rise again after three days from His triumphal Passion and appear on His heavenly throne with divine honor. [Exposition of the Gospel of Luke 2.63]
Read more
---
FreeRepublic.com is powered by software copyright 2000-2008 John Robinson