---
To: All
The Fifth Joyful Mystery: The Finding of Our Lord in the Temple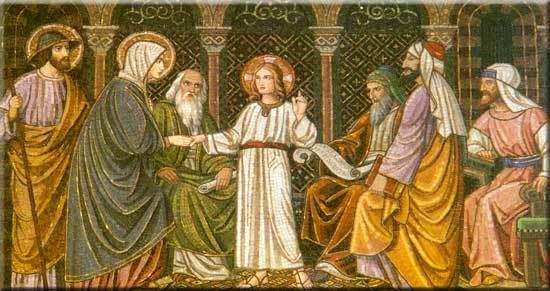 Pious Jews would go to Jerusalem for the Passover so that they could bring a lamb to the Temple to be sacrificed at the right moment on the right day. Jesus Himself would be nailed to a Cross and die during the slaughter of the lambs in the Temple while the priests lined the stairs to the altar and sang Psalms. In the quiet of the ancient world, when Jerusalem was still on that holy day, Jesus could probabaly hear the crying of the lambs and the psalms being sung. Did Jesus picture the scene as He was dying? He knew the Temple well, after all. The Holy Family travelled to the Temple at least one during the childhood of the Lord and Jesus wound up spending three days there.
Mary and Joseph lost Jesus for three days and found Him again in the Temple. Few hints of His childhood remain to us in Scripture. Thus, the Fathers thought they were filled with meaning. St Ambrose of Milan (+397) wrote:
The beginning of the Lord's disputation is takem from His twelf year. This number of the evangelists was intended for the preaching of the Faith. (cf. Mt 10:1-2,7) Nor is it idly that, forgetful of His parents according to the flesh, he who according to the flesh assuredly was filled with the wisdom and grace of God is found after three days in the Temple. It is a sign that He who was believed dead for our Faith would rise again after three days from His triumphal Passion and appear on His heavenly throne with divine honor. [Exposition of the Gospel of Luke 2.63]
Read more
---
To: All
At the end of the decades:
Hail, Holy Queen: HAIL holy Queen, Mother of mercy, our life, our sweetness, and our hope. To thee do we cry, poor banished children of Eve. To thee do we send up our sighs, mourning and weeping in this valley of tears. Turn then, most gracious Advocate, thine eyes of mercy toward us. And after this our exile show unto us the blessed fruit of thy womb, Jesus. O clement, O loving, O sweet Virgin Mary. Pray for us, O Holy Mother of God. That we may be made worthy of the promises of Christ. Amen.Closing:
O God whose only begotten Son has purchased for us the rewards of eternal life, Grant that we beseech Thee while meditating upon these mysteries of the Most Holy Rosary of the Blessed Virgin Mary, we may both imitate what they contain and obtain what they promise, through the same Christ our Lord Amen.
Most Sacred Heart of Jesus, have mercy on us.
Immaculate Heart of Mary, pray for us.
In the Name of the Father, and of the Son, and of the Holy Spirit. AMEN.

---
FreeRepublic.com is powered by software copyright 2000-2008 John Robinson