The First Sorrowful Mystery: The Agony of Our Lord in the Garden of Gethsemane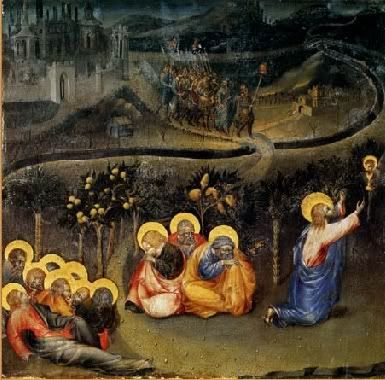 Jesus goes with the apostles to Gethsemane. With great trembling and fear he prays to the father to release him from his sufferings, while the apostles sleep. Finally, after several hours of agonizing prayers, Jesus goes out to be handed over to his enemies. (Mt 26:36-46; Mk 14:32-42; Lk 22:39-46)
1. (S) Jesus and his eleven apostles come to a small estate, a garden called Gethsemane, at the foot of the Mount of Olives, where they had often come to pray.
2. (S) He says to his disciples, "Stay here while I go over there to pray." He takes Peter, James and John with him. And sadness and distress come over him.
3. (S) "My soul is sorrowful to the point of death," he says to them. "Wait here and keep awake." Going on a bit further, he falls on his face and prays.
4. (S) "My Father," Jesus says, "if it is possible, let this cup pass me by. Nevertheless, let it be as you, not I, would have it."
5. (A) Jesus sees all the sins of mankind as he prays. Satan displays increasingly horrible visions before him, taunting, "Would you take even this sin on yourself?"
6. (S) Jesus returns to the apostles and finds them sleeping. He says to Peter, "Simon, are you asleep? Were you not able to watch with me one hour?
7. (S) "You should be awake and praying to not be put to the test. The spirit is willing but the flesh is weak." Again, a second time he goes away and prays.
8. (S) "My Father, if this cup cannot pass by without my drinking it, your will be done." An angel appears to him from heaven, to give him strength.
9. (S) Entering deeply into his agony, Jesus prays even more earnestly, and his sweat becomes like drops of blood falling down upon the ground.
10. (S) He goes back and finds the apostles sleeping again, their eyes are so heavy. And they can find no answer for him. He goes away and prays for a third time.
(S) Finally, he returns and says, "Sleep on now and take your rest. The hour has come when the Son of Man is to be betrayed..."
Glory be...
O, my Jesus...