The Fifth Sorrowful Mystery: The Crucifixion of Our Lord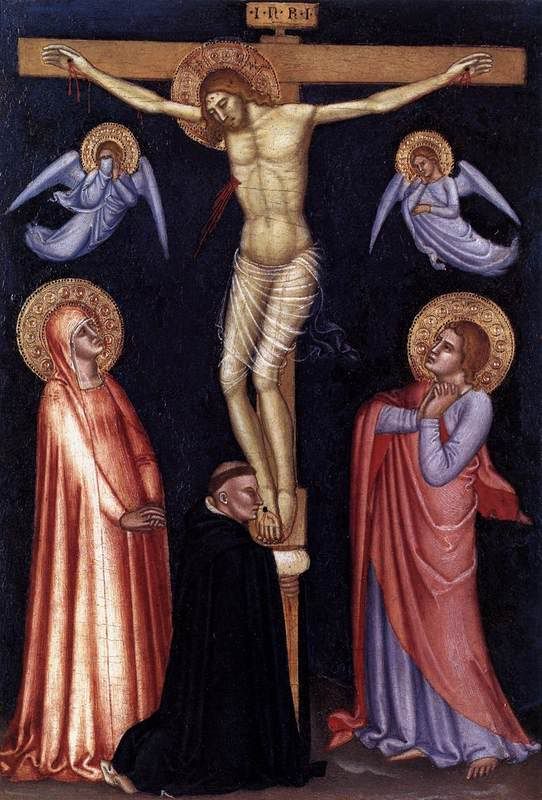 Arriving at Golgotha, Jesus is stripped, and then crucified between two thieves. The on-lookers jeer at Our Lord. One thief abuses him; the other rebukes the first and defends Jesus, and is rewarded for it. Finally, Jesus cries out and expires. (Mt. 27:33-54; Mk. 15:22-39; Lk. 23:32- 49; Jn. 19:18-30)
1. (S) When they arrive at Golgotha, they offer Jesus some wine to drink, mixed with myrrh* but he refuses it. The soldiers remove his clothes and prepare to cast lots for them.
2. (S) Jesus is crucified between two robbers. Pilate writes out a notice and has it attached to the cross. It reads, "Jesus the Nazarene, king of the Jews"**
3. (S) The passers-by jeer at Jesus, "So you would destroy the temple and rebuild it in three days! Then save yourself! If you are God's son, come down from the cross!"
4. (S) The chief priests and scribes add, "He saved others; he cannot save himself. Let the Christ, the king of Israel, come down from the cross now that we may see and believe.
5. (S) One of the criminals being crucified abuses Our Lord: "Are you not the Christ? Save yourself and us as well." Jesus says, "Father forgive them. They know not what they do."
6. (S) The other thief rebukes the first: "Have you no fear of God at all? You got the same sentence he did but in our case we deserved it; we are paying for what we did..."
7. (S) "...but this man has done no wrong, "he adds."Jesus, remember me when you come into your kingdom." Jesus responds, "Indeed, this day you will be with me in paradise."
8. (S) Seeing his mother and the disciple he loved nearby, Jesus says, "Woman, behold your son," and to the disciple, "Behold your mother."
9. (S) From noon until three o'clock there is darkness over the land. Toward three o'clock, Jesus calls out, "I thirst"; and then, "My God, my God, why have you deserted me?"
10. (S) Finally, Jesus cries out, "Father, into your hands I commit my spirit," and he expires. At this, the veil of the temple is torn in two.
(S) The earth quakes; rocks are split. The centurian standing there says, "Truly, this was the Son of God."
*myrhh - a bitter tasting gum resin used with wine to deaden pain
**This was written in Latin, Greek and Hebrew. The Latin, "Iesus Nazarenus, Rex Iudaorum," is abbreviated INRI.
Glory be...
O, my Jesus...

At the end of the decades:
Hail, Holy Queen: HAIL holy Queen, Mother of mercy, our life, our sweetness, and our hope. To thee do we cry, poor banished children of Eve. To thee do we send up our sighs, mourning and weeping in this valley of tears. Turn then, most gracious Advocate, thine eyes of mercy toward us. And after this our exile show unto us the blessed fruit of thy womb, Jesus. O clement, O loving, O sweet Virgin Mary. Pray for us, O Holy Mother of God. That we may be made worthy of the promises of Christ. Amen.Closing:
O God whose only begotten Son has purchased for us the rewards of eternal life, Grant that we beseech Thee while meditating upon these mysteries of the Most Holy Rosary of the Blessed Virgin Mary, we may both imitate what they contain and obtain what they promise, through the same Christ our Lord Amen.
Most Sacred Heart of Jesus, have mercy on us.
Immaculate Heart of Mary, pray for us.
In the Name of the Father, and of the Son, and of the Holy Spirit. AMEN.