---
In Mystery Of Beatle Lennon Was Occult Link That May Have Factored Into Death
Spirit Daily ^ | 02.01.07 | Michael Brown


Posted on 02/01/2007 9:14:13 AM PST by Coleus
If there was a danger to the dark side that welled in music in the 1960s, it was perhaps best represented by what happened to one of its icons, Beatle John Lennon. His was a life that symbolized, and took to an extreme, the spiritual struggles -- and confusion -- of a generation. As previously reported [click here for story], after years of casting about -- swerving as a youth from Christianity to agnosticism to atheism and then all the way to Eastern meditation -- the famed songwriter settled, in the end, on the occult, as sort of a harbinger for the generation.
Years of taking drugs and meditating without a personal God had led the Beatles -- and society -- on a journey from which they would never fully recover. Their lives raise the question, in fact, of what force, good or bad, they were tapping into to start with. The same can be asked of the many bands that drew from what seemed like an outpouring of musical spirit, "one-hit" wonders and others who exploded onto the scene during the mysterious Sixties -- and often with far darker lyrics than any found in Beatle music.
But like so many of their generation, John, Paul, George, and Ringo fell into the deception of false gods and seemed to suffer bad "luck" as a consequence. Lennon died at the tender age of 40, George Harrison died at 58 (and had a previous close call when an intruder tried to stab him in his own home), McCartney's wife died young of cancer (which was also what killed Harrison), and Paul also is now wrapped in a vicious divorce battle with his second wife. Were they evil men? No. I say this as a former fan. Much of their music seemed classic, even hymnal. Were they deceived? Without question -- and that confusion led millions of others into dark corridors.
The occult was all around them. A photograph of satanist Aleister Crowley was on the "Sergeant Pepper" album (he died precisely twenty years before release of the 1967 album, which some believe was commemorated in the lyrics, "it was twenty years ago today"), and at their company, Apple Records, a fortune teller was on the payroll to read tarot cards (as well as do the I Ching). The song Come Together, on their last album, "Abbey Road," was the name of the 46th hexagram of the I Ching [Eastern occult divination]. The Beatles were ardent followers of astrology. And it was all pure danger. "The god they would talk about was an impersonal force rather than a personal being," recounts biographer Steve Turner in a new book, The Gospel According to the Beatles. "They meditated rather than prayed; believed in the karmic wheel rather than Heaven or hell; favored the I Ching over the Holy Spirit."
In that era, whose eyes had not been blinded? How many of us have been deceived by mediums, astrology, Ouija boards? Let it be a lesson. But the Beatles were a massive cultural force and when murderer Charles Manson heard their song Helter Skelter, as well as others on the "White Album," he took them as personal messages to kill (in order to provoke a revolution). The words "Helter Skelter" (if misspelled) would find themselves scrawled in blood at the home of Leno and Rosemary LaBianca of Los Angeles -- who Manson's "family," acting on what they believed were Beatle prophecies, killed after taking the life of actress Sharon Tate (whose husband, Roman Polanski, happened to be filming a movie about the devil, Rosemary's Baby, at the time of the killings). Ironically, the star of Rosemary's Baby, Mia Farrow, was with the Beatles when they were training under Maharishi Mahesh Yogi in India.
Songs like Helter Skelter alternated in the Beatle repertoire with what sounded nearly like religious music, most tellingly when biblical phrases like "times of trouble" (Psalms 10:1), "the brokenhearted" (Luke 4:18) or "a light that shines" (John 1:5) were used. Not to mention the phrase, in Let It Be: "When I find myself in times of trouble, Mother Mary comes to me, speaking words of wisdom, let it be." There was goodness in the Beatles. Often, they sought to spread goodwill.
But in the end there was a strong shadowing of drugs and the occult -- and this would take a dramatic turn when Lennon met future wife and occultist, Yoko Ono (who was similarly misled and whose current album is called "I Am a Witch").
There were UFOs. There were psychics -- hired to hold seances at the couple's apartment in the Dakota. There was a room of Egyptian artifacts. "John became increasingly dependent on and subservient to Yoko and, as a result, dependent on the guidance of occultists," Turner points out. "After 1975 John sought guidance through using a wide range of occult practices from astrology and seances to numerology and directionalism," reveals the writer. In March of 1977, says the author, Yoko even traveled to Catagena in Colombia to meet a witch and pay $60,000 for a series of rituals. Ironically, at this time, Lennon was on the verge of re-embracing the Christianity of his youth -- converting for a short period after watching evangelists such as Pat Robertson, Oral Roberts, and Jim Bakker on television.
Indeed, Lennon baffled those close to him by constantly praising "the Lord" and writing songs with Christian themes -- and even the Lord's Prayer, set to music. Yoko, he began charging, was practicing dark arts -- "telling her that she couldn't see the truth because her eyes had been blinded by Satan," writes Turner. It was a short respite. After a long stay in Tokyo (a time during which he suffered "terrifying nightmares," and felt as if "spirits" were "passing" through him), John Lennon went back to Eastern and occult practices with a vengeance. Renouncing the Church, he went so far as to read books by Madame H. P. Blavatsky and worked himself into a tirade against Christianity. Years before, he had written the atheistic-themed Imagine. It was the confusion -- and deception -- of a generation.
He now said he was a "born-again pagan."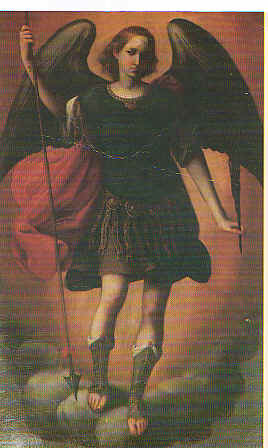 Around this same time, another confused young man and one-time born-again Christian, Mark David Chapman, became fixated on Lennon. A former fan, he was enraged at Lennon's remark that the Beatles were "more popular" than Jesus, and also at the song Imagine. Deeply troubled, Chapman carried on constant conversations with what he called invisible "little people," and also heard the voice of the devil telling him to kill the famed song writer. Instead of "imagine there's no Heaven" -- a lyric in the song -- Chapman went around singing, "Imagine John Lennon's dead." And on December 8, 1980 -- feast day of the Immaculate Conception, the patroness of Christianity, but one long forgotten -- Lennon found himself the victim of gunshots leveled at him by the deeply disturbed Chapman. It was the end of an era, and of a run of music that helped transform society.
The last person Chapman saw before he entered the courtyard to kill Lennon on the Upper West Side of New York was a famous actress who was walking her dog. It was Mia Farrow, who had starred in Rosemary's Baby -- which was filmed at the Dakota, where Lennon lived and where he met his untimely death.

---
TOPICS: General Discusssion; Religion & Culture; Skeptics/Seekers
KEYWORDS: beatles; freaks; hippies; johnlennon; occult; pagan
---
---
---
---
---
---
---
---
---
---
---
---
---
---
---
---