---
The Albany cathedral, which can hold some 1,300 people, was host to fewer than 100 during Sunday's 9 a.m. service. (Paul Buckowski / Times Union)

The Albany cathedral shows signs of ongoing work. (Paul Buckowski / Times Union)
---
---
To: Lady In Blue; Salvation; narses; SMEDLEYBUTLER; redhead; Notwithstanding; nickcarraway; Romulus; ...
Today, the diocese's flagship church serves about 650 households. That includes people from the surrounding neighborhoods, a young Filipino community and state workers who attend weekday Masses.
Not quite true. Many state workers prefer to attend Mass at

Historic St. Mary's
St. Mary's has been hallowed in many ways since St. Isaac Jogues prayerfully knelt on its soil as a prisoner of the Iroquois. The history of St. Mary's is of equal age with the first missionary work in the country and dates from the period in the 17th century when Albany was the eastern gate to the land of the Iroquois through which the martyrs of Auriesville passed to the scenes of their triumph and their death. Dr. Matthew O'Brien, O.P., who baptized St. Elizabeth Ann Seton, was once the pastor of St. Mary's. St. John Neumann offered Mass more than once on the altar of St. Mary's. Fr. Theobald Mathew, the renowned temperance leader from Ireland, preached and offered a novena here. The leader of the Oxford Movement in America, Fr. Clarence Walworth, was pastor here for many years. Fr. Walworth petitioned the American Bishops gathered at the Third Plenary Council of Baltimore and there introduced the cause of the Lily of the Mohawks, Blessed Kateri Tekawitha.
Take the tour of this beautiful old church - pews, confessionals, altar rail, stations, statues .. still intact.
2
posted on
02/08/2007 6:05:04 AM PST
by
NYer
("Where the bishop is present, there is the Catholic Church" - Ignatius of Antioch)
---
To: NYer
I wonder if the good bishop will have a bronze portrait of himself installed in the "renovated" cathedral similar to what his buddy, Rembert had put in--before he was given the boot...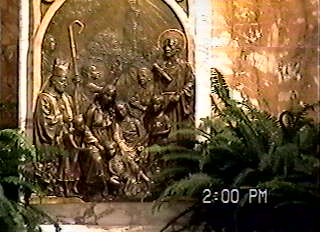 3
posted on
02/08/2007 6:39:13 AM PST
by
Antoninus
( Who is Duncan Hunter? Find out....www.gohunter08.com)
---
To: NYer
Was this the one that "officials" were going to wreckovate into a non-descript place of worship?
4
posted on
02/08/2007 6:39:25 AM PST
by
Jaded
("I have a mustard- seed; and I am not afraid to use it."- Joseph Ratzinger)
---
To: NYer
Wow! What a gorgeous church. It would be a shame to let it go.
7
posted on
02/08/2007 7:15:19 AM PST
by
Aquinasfan
(When you find "Sola Scriptura" in the Bible, let me know)
---
FreeRepublic.com is powered by software copyright 2000-2008 John Robinson