---
To: All
The Fourth Glorious Mystery: The Assumption of the Blessed Virgin Mary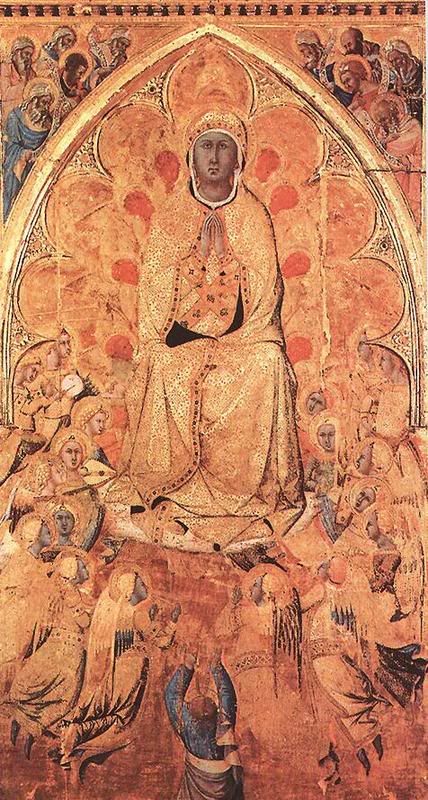 Mary's soul returns to God and her glorified body is taken up into heaven and reunited with her soul.
If Christ Jesus wishes us to love all the members of His Mystical Body, should we not love above all others her who gave Him the very nature by which He became our Head, the same nature which He uses to communicate His grace to us? We cannot doubt but that the love which we show to his Mother is extremely pleasing to Christ. We shall manifest our love by extolling the sublime privileges which Jesus has bestowed on His Mother, among which the Assumption is one of the most glorious. If we wish to please our Lord very much, we shall admire the wonderful gifts with which He has lovingly adorned the soul of His Mother. He wishes that we should sing the praises of the Virgin, who was chosen among all women to give the Savior to the world. "Yes, we shall sing your praises, for you alone have delighted the heart of your God. May you be blessed, for you have believed the word of God, and in you the eternal promises have been fulfilled."
Hail Mary...(ten times)
Glory be...
O, my Jesus...

---
To: All
The Fifth Glorious Mystery: The Coronation of Mary as Queen of Heaven and Earth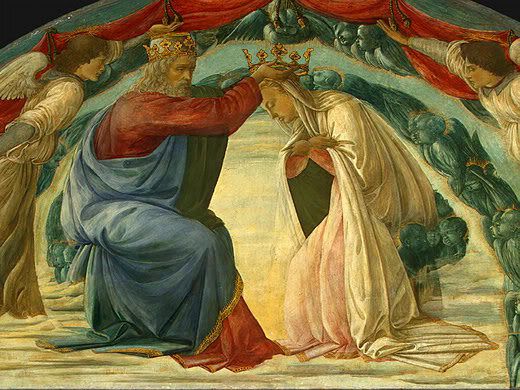 Mary is crowned as Queen of heaven and earth, Queen of angels and saints.
What is the purpose of all the mysteries of Christ? To be the pattern of our supernatural life, the means of our sanctification, the source of all our holiness. To create an eternal and glorious society of brethren who will be like unto Him. For this reason Christ, the new Adam, has associated with Himself Mary, as the new Eve. But she is, much more than Eve, "the Mother of all the living," the Mother of those who live in the grace of her Son.

And since here below Mary was associated so intimately with all the mysteries of our salvation, at her Assumption into heaven Jesus crowned her not only with glory but also with power; He has placed His Mother on His right hand and has given her the power, in virtue of her unique title of Mother of God, to distribute the treasures of eternal life.
Let us then, full of confidence, pray with the Church: "Show yourself a Mother: Mother of Jesus, by your complete faith in Him, our Mother, by your mercy towards us; ask Christ, Who was born of you, to give us life; and Who willed to be your Son, to receive our prayers through you."
Hail Mary...(ten times)
Glory be...
O, my Jesus...

---
FreeRepublic.com is powered by software copyright 2000-2008 John Robinson