---
To: All
The Fifth Glorious Mystery: The Coronation of Mary as Queen of Heaven and Earth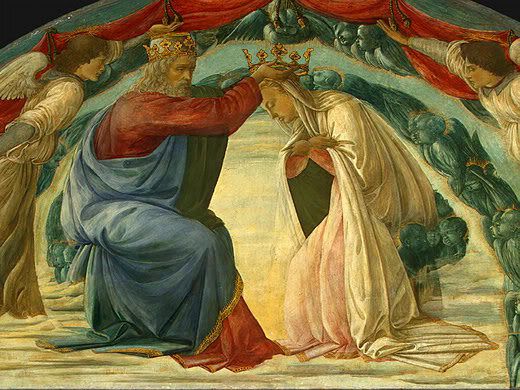 Mary is crowned as Queen of heaven and earth, Queen of angels and saints.
What is the purpose of all the mysteries of Christ? To be the pattern of our supernatural life, the means of our sanctification, the source of all our holiness. To create an eternal and glorious society of brethren who will be like unto Him. For this reason Christ, the new Adam, has associated with Himself Mary, as the new Eve. But she is, much more than Eve, "the Mother of all the living," the Mother of those who live in the grace of her Son.

And since here below Mary was associated so intimately with all the mysteries of our salvation, at her Assumption into heaven Jesus crowned her not only with glory but also with power; He has placed His Mother on His right hand and has given her the power, in virtue of her unique title of Mother of God, to distribute the treasures of eternal life.
Let us then, full of confidence, pray with the Church: "Show yourself a Mother: Mother of Jesus, by your complete faith in Him, our Mother, by your mercy towards us; ask Christ, Who was born of you, to give us life; and Who willed to be your Son, to receive our prayers through you."
Hail Mary...(ten times)
Glory be...
O, my Jesus...

---
To: All
At the end of the decades:
Hail, Holy Queen: HAIL holy Queen, Mother of mercy, our life, our sweetness, and our hope. To thee do we cry, poor banished children of Eve. To thee do we send up our sighs, mourning and weeping in this valley of tears. Turn then, most gracious Advocate, thine eyes of mercy toward us. And after this our exile show unto us the blessed fruit of thy womb, Jesus. O clement, O loving, O sweet Virgin Mary. Pray for us, O Holy Mother of God. That we may be made worthy of the promises of Christ. Amen.
Closing:
O God whose only begotten Son has purchased for us the rewards of eternal life, Grant that we beseech Thee while meditating upon these mysteries of the Most Holy Rosary of the Blessed Virgin Mary, we may both imitate what they contain and obtain what they promise, through the same Christ our Lord Amen. In the name of the Father and of the Son and of the Holy Spirit. AMEN.

---
FreeRepublic.com is powered by software copyright 2000-2008 John Robinson