---
Responding to "Rainbow" Warriors
Stand Firm in Faith ^ | March 9, 2007 | Matt Kennedy


Posted on 03/10/2007 8:05:43 PM PST by Huber

Those wearing a rainbow sash or insignia publicly declare that: 1. they unrepentantly and willfully reject the clear teaching of both the Scriptures and the Church and/or 2. that they are themselves willfully and unrepentantly engaging in homosexual sex. The display represents an attempt to abuse the Lord's table for political gain and public notoriety. If permitted it will cause great injury to their own souls and to the Body of Christ. As ordained ministers of the gospel and pastors of a flock it is, in my opinion, our duty to prevent this abuse.

-------------------------------------------------------------------------------- How do orthodox pastors respond to a rainbow presence on Easter morning?

Those wearing a rainbow sash or insignia publicly declare that: 1. they unrepentantly and willfully reject the clear teaching of both the Scriptures and the Church and/or 2. that they are themselves willfully and unrepentantly engaging in homosexual sex.

The display represents an attempt to abuse the Lord's table for political gain and public notoriety. If permitted it will cause great injury to their own souls and to the Body of Christ. As ordained ministers of the gospel and pastors of a flock it is, in my opinion, our duty to prevent this abuse.

I suggest the following as perhaps the best way of handling such an eventuality both for those enslaved by the sin of homosexual behavior and those who ennable their enslavement, not to mention the congregation at large.

1. Between the peace and the offeratory (or during announcements), the rector or senior pastor invite those with rainbow insignia to step aside into an antechamber while the senior warden or assistant pastor leads the announcements. Those wearing the insignia unwilling to meet in the antechamber will be denied communion

2. Once assembled the rector or senior pastor should read aloud the exhortation found on page 316 of the 1979 Book of Common Prayer:

Beloved in the Lord: Our Savior Christ, on the night before he suffered, instituted the Sacrament of his Body and Blood as a sign and pledge of his love, for the continual remembrance of the sacrifice of his death, and for a spiritual sharing in his risen life. For in these holy Mysteries we are made one with Christ, and Christ with us; we are made one body in him, and members one of another.

Having in mind, therefore, his great love for us, and in obedience to his command, his Church renders to Almighty God our heavenly Father never-ending thanks for the creation of the world, for his continual providence over us, for his love for all mankind, and for the redemption of the world by our Savior Christ, who took upon himself our flesh, and humbled himself even to death on the cross, that he might make us the children of God by the power of the Holy Spirit, and exalt us to everlasting life.

But if we are to share rightly in the celebration of those holy Mysteries, and be nourished by that spiritual Food, we must remember the dignity of that holy Sacrament. I therefore call upon you to consider how Saint Paul exhorts all persons to prepare themselves carefully before eating of that Bread and drinking of that Cup.

For, as the benefit is great, if with penitent hearts and living faith we receive the holy Sacrament, so is the danger great, if we receive it improperly, not recognizing the Lord's Body. Judge yourselves, therefore, lest you be judged by the Lord.

Examine your lives and conduct by the rule of God's commandments, that you may perceive wherein you have offended in what you have done or left undone, whether in thought, word, or deed. And acknowledge your sins before Almighty God, with full purpose of amendment of life, being ready to make restitution for all injuries and wrongs done by you to others; and also being ready to forgive those who have offended you, in order that you yourselves may be forgiven. And then, being reconciled with one another, come to the banquet of that most heavenly Food.

And if, in your preparation, you need help and counsel, then go and open your grief to a discreet and understanding priest, and confess your sins, that you may receive the benefit of absolution, and spiritual counsel and advice; to the removal of scruple and doubt, the assurance of pardon, and the strengthening of your faith.

To Christ our Lord who loves us, and washed us in his own blood, and made us a kingdom of priests to serve his God and Father, to him be glory in the Church evermore. Through him let us offer continually the sacrifice of praise, which is our bounden duty and service, and, with faith in him, come boldly before the throne of grace [and humbly confess our sins to Almighty God].

3. Follow this by reading Leviticus 18:22, Romans 1:22-33, and or 1st Corinthians 6:9. In my opinion Romans 1 is best because it includes a condemnation of both male and female homosexual behavior.

4. Invite those living in a non-celibate homosexual life-style or relationship to repent of the sin of homosexual behavior. Invite those who support the blessing of such behavior to repent of facilitating/ennabling sin and contributing to the spiritual harm of others and to the church at large.

5. If they are ready to do so or at the very least admit that they have sinned and desire to be free of the sin and reconciled to the Lord, then invite them to remove their insignia and recieve communion at the rail.

6. If the offer of repentance is refused then, being in open, willful and notorious sin, they will not be invited to recieve communion (BCP 409). They may, however, come forward so that a priest may pray for their repentance and change of heart.

7.Write a letter to the diocesan bishop explaining the action and the circumstances (BCP 409)

end

---
TOPICS: Catholic; Mainline Protestant
KEYWORDS: anglican; rainbowwarrior



---
To: ahadams2; DeaconBenjamin2; Way4Him; Peach; Zippo44; piperpilot; ex-Texan; ableLight; rogue yam; ...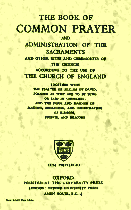 Traditional Anglican ping
, continued in memory of its founder
Arlin Adams
.
FReepmail
Huber
if you want on or off this moderately high-volume ping list (typically 3-9 pings/day).
This list is pinged by
Huber
.
Resource for Traditional Anglicans:
http://trad-anglican.faithweb.com
Humor:
The Anglican Blue
Speak the truth in love. Eph 4:15
2
posted on
03/10/2007 8:08:38 PM PST
by
Huber
(And the light shineth in darkness; and the darkness comprehended it not. - John 1:5)
---
To: Huber
WOW! Let us pray that priests, even if just a few, will have the strength in their loins...empowered by the Holy Spirit...to follow these instructions to a tee.

God bless the courageous!
---
To: Huber
We have our own rainbow:

4
posted on
03/10/2007 8:22:51 PM PST
by
Vigilanteman
(Are there any men left in Washington? Or are there only cowards? Ahmad Shah Massoud)
---
FreeRepublic.com is powered by software copyright 2000-2008 John Robinson