---
Great explanation of this sacrament by a Dominican priest who is also an RN, Fr. Christopher Saliga.

---
To: Mary Kochan
---
To: Mary Kochan
Is Anointing of the Sick the same as the Last Sacrament?
3
posted on
04/26/2011 11:50:40 AM PDT
by
kitkat
( I sure HOPE that it's time for a CHANGE from Obama.)
---
To: Mary Kochan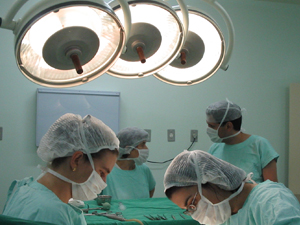 Final Analysis
Whether one legitimately fears probable death or one is going for a common but serious surgery reasonably expected to bring cure rather than death, one would do well to seek out Anointing of the Sick for the good of his/her own sanctification. In cases in which one is guilty of sin, one should also have his/her confession heard unto absolution and receive Eucharist. Doing so gives a person all the reason in the world to be at peace. In the end, rather than inappropriately treating these sacraments of healing as quasi "last-ditch placebo-type 'holistic' palliative interventions," [13] viewing them superstitiously, or not thinking of them at all, one should begin with them and continue to practice them and other prayer forms insofar as one is capable throughout one's course of treatment even, and perhaps most especially, when cure is probably impossible.
6
posted on
04/26/2011 3:10:05 PM PDT
by
Salvation
("With God all things are possible." Matthew 19:26)
---
To: Mary Kochan
7
posted on
04/26/2011 3:13:40 PM PDT
by
Salvation
("With God all things are possible." Matthew 19:26)
---
FreeRepublic.com is powered by software copyright 2000-2008 John Robinson