Sea of Sorrow
Oh! on what a sea of sorrow
Was the Virgin-Mother cast,
When her eyes with tears o'erflowing
Gazed upon her Son aghast,
From the bloodstained gibbet taken,
Dying in her arms at last.
In her bitter desolation,
His sweet mouth, His bosom too,
Then His riven side beloved,
Then each hand, both wounded through,
Then His feet, with blood encrimsoned,
Her maternal tears bedew.
She, a hundred times and over,
Strains Him closely to her breast
Heart to Heart, arms arms enfolding,
Are His wounds on her impressed:
Thus, in sorrow's very kisses,
Melts her anguished soul to rest.
Oh, dear Mother! we beseech thee,
By the tears thine eyes have shed,
By the cruel death of Jesus
And His wounds' right royal red,
Make our hearts o'erflow with sorrow
From thy heart's deep fountainhead.
To the Father, Son, and Spirit,
Now we bend on equal knee:
Glory, sempiternal glory,
To the Most High Trinity;
Yea! perpetual praise and honor
Now and through all ages be.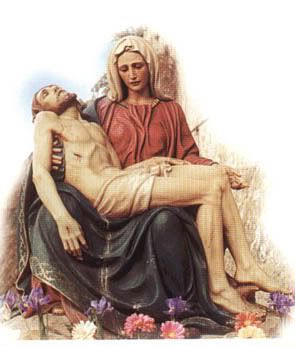 Novena Prayer To Our Sorrowful Mother
Most Blessed and afflicted Virgin, Queen of Martyrs, who didst stand generously beneath the cross, beholding the agony of thy dying Son; by the sword of sorrow which then pierced thy soul, by the sufferings of thy sorrowful life, by the unutterable joy which now more than repays thee for them; look down with a mother's pity and tenderness, as I kneel before thee to compassionate thy sorrows, and to lay my petition with childlike confidence in thy wounded heart. I beg of thee, O my Mother, to plead continually for me with thy Son, since He can refuse thee nothing, and through the merits of His most sacred Passion and Death, together with thy own sufferings at the foot of the cross, so to touch His Sacred Heart, that I may obtain my request,
For to whom shall I fly in my wants and miseries, if not to thee, O Mother of mercy, who, having so deeply drunk the chalice of thy Son, canst most pity us poor exiles, still doomed to sigh in this vale of tears? Offer to Jesus but one drop of His Precious Blood, but one pang of His adorable Heart; remind Him that thou art our life, our sweetness, and our hope, and thou wilt obtain what I ask, through Jesus Christ our Lord. Amen.
Hail Mary
Virgin Most Sorrowful, pray for us
(Seven times each)
Mary, most holy Virgin and Queen of Martyrs, accept the sincere homage of my filial affection. Into thy Heart, pierced by so many swords, do thou welcome my poor soul. Receive it as the companion of thy sorrows at the foot of the Cross, on which Jesus died for the redemption of the world. With thee, O sorrowful Virgin, I will gladly suffer all the trials, contradictions, and infirmities which it shall please Our Lord to send me. I offer them all to thee in memory of thy sorrows, so that: every thought of my mind and every beat of my heart may be an act of compassion and of love for thee. And do thou, sweet Mother, have pity on me, reconcile me to thy Divine Son, Jesus; keep me in His grace and assist me in my last agony, so that I may be able to meet thee in Heaven and sing thy glories.
Most holy Virgin and Mother, whose soul was pierced by a sword of sorrow in the Passion of thy Divine Son, and who in His glorious Resurrection wast filled with never ending joy at His triumph, obtain for us who call upon thee, so to be partakers in the adversities of Holy Church and the Sorrows of the Sovereign Pontiff, as to be found worthy to rejoice with them in the consolations for which we pray, in the charity and peace of the same Christ our Lord.
Amen.
Litany of the Seven Sorrows
For private use only.
Lord, have mercy on us.
Christ, have mercy on us.
Lord, have mercy on us.
Christ, hear us.
Christ, graciously hear us.
God the Father of Heaven,
Have mercy on us.
God the Son, Redeemer of the world,
Have mercy on us.
God the Holy Spirit,
Have mercy on us.
Holy Trinity, One God,
Have mercy on us.
Holy Mary,
Pray for us.
Holy Mother of God,
Pray for us.
Holy Virgin of virgins, etc.
Mother crucified,
Mother sorrowful,
Mother tearful,
Mother afflicted,
Mother forsaken,
Mother desolate,
Mother bereft of thy Child,
Mother transfixed with the sword,
Mother consumed with grief,
Mother filled with anguish,
Mother crucified in heart,
Mother most sad,
Fountain of tears,
Abyss of suffering,
Mirror of patience,
Rock of constancy,
Anchor of confidence,
Refuge of the forsaken,
Shield of the oppressed,
Subduer of the unbelieving,
Comfort of the afflicted,
Medicine of the sick,
Strength of the weak,
Harbor of the wrecked,
Allayer of tempests,
Resource of mourners,
Terror of the treacherous,
Treasure of the faithful,
Eye of the Prophets,
Staff of the Apostles,
Crown of Martyrs,
Light of confessors,
Pearl of virgins,
Consolation of widows,
Joy of all Saints,
Lamb of God, Who takest away the sins of the world,
Spare us, O Lord.
Lamb of God, Who takest away the sins of the world,
Graciously hear us, O Lord.
Lamb of God, Who takest away the sins of the world,
Have mercy on us.
Look down upon us, deliver us, and save us from all trouble,
in the power of Jesus Christ. Amen.
Let Us Pray.
Imprint, O Lady, thy wounds upon my heart, that I may read therein sorrow and love
--- sorrow to endure every sorrow for thee, love to despise every love for thee. Amen.
Conclude with the Apostles Creed, Hail Holy Queen, and three Hail Marys,
in honor of the Most Holy Heart of Mary.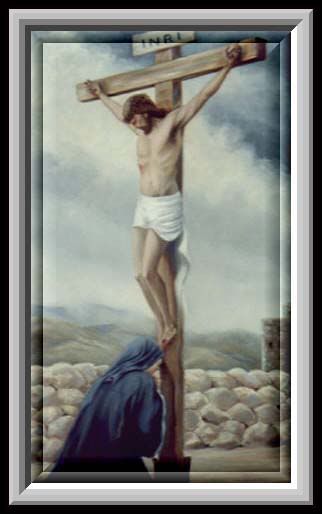 Stabat Mater Dolorósa
Sequence Hymn
Latin

Stabat Mater dolorósa
iuxta crucem lacrimósa,
dum pendébat Fílius.

Cuius ánimam geméntem,
contristátam et doléntem
pertransívit gládius.

O quam tristis et afflícta
fuit illa benedícta,
mater Unigéniti!

Quæ mærébat et dolébat,
pia Mater, dum vidébat
Nati poenas íncliti.

Quis est homo qui non fleret,
Matrem Christi si vidéret
tanto supplício?

Quis non posset contristári,
piam Matrem contemplári
doléntem cum Fílio?

Pro peccátis suæ gentis
vidit lesum in torméntis,
et flagéllis súbditum.

Vidit suum dulcem Natum
moriéndo desolátum,
dum emísit spíritum.

Eia, Mater, fons amóris
me sentíre vim dolóris fac,
ut tecum lúgeam.

Fac ut árdeat cor meum
in amándo Christum Deum,
ut sibi compláceam.

Sancta Mater, istud agas,
Crucifíxi fige plagas
cordi meo válide.

Tui Nati vulneráti,
tam dignáti pro me pati,
poenas mecum divide.

Fac me tecum pie flere,
Crucifíxo condolére,
donec ego víxero.

Iuxta crucem tecum stare,
ac me tibi sociáre
in planctu desídero.

Virgo vírginum præclára,
mihi iam non sis amára,
fac me tecum plángere.

Fac ut portem Christi mortem,
passiónis fac me sortem,
et plagas recólere.

Fac me plagis vulnerári,
cruce hac inebriári,
et cruóre Filii.

Flammis urar succénsus,
per te, Virgo, sim defénsus
in die iudícii.

Fac me cruce custodíri,
morte Christi præmuníri,
confovéri grátia.

Quando corpus moriétur,
fac ut ánimæ donétur
Paradísi glória.



English

At the cross her station keeping
stood the mournful Mother weeping,
close to Jesus to the last.

Through her heart, His sorrow sharing,
all His bitter anguish bearing
now at lenght the sword had passed.

Oh, how sad and sore distressed
was that Mother highly blessed,
of the sole-begotten One!

Christ above in torment hangs,
she beneath beholds the pangs
of her dying, glorious Son.

Is there one who would not weep,
'whelmed in miseries so deep,
Christ's dear Mother to behold?

Can the human heart refrain
from partaking in her pain,
in that Mother's pain untold?

Bruised, derided, cursed, defiled,
she beheld her tender Child
All with scourges rent.

For the sins of His own nation,
saw Him hang in desolation,
Till His spirit forth He sent.

O sweet Mother! fount of love!
Touch my spirit from above,
make my heart with thine accord.

Make me feel as thou hast felt;
make my soul to glow and melt
with the love of Christ, my Lord.

Holy Mother! pierce me through,
in my heart each wound renew
of my Savior crucified.

Let me share with thee His pain,
who for all our sins was slain,
who for me in torments died.

Let me mingle tears with thee,
mourning Him who mourned for me,
all the days that I may live.

By the Cross with thee to stay,
there with thee to weep and pray,
is all I ask of thee to give.

Virgin of all virgins blest!,
Listen to my fond request:
let me share thy grief divine;

Let me, to my latest breath,
in my body bear the death
of that dying Son of thine.

Wounded with His every wound,
steep my soul till it hath swooned,
in His very Blood away;

Be to me, O Virgin, nigh,
lest in flames I burn and die,
in His awful Judgment Day.

Christ, when Thou shalt call me hence,
by Thy Mother my defense,
by Thy Cross my victory;

While my body here decays,
may my soul Thy goodness praise,
safe in paradise with Thee. Amen.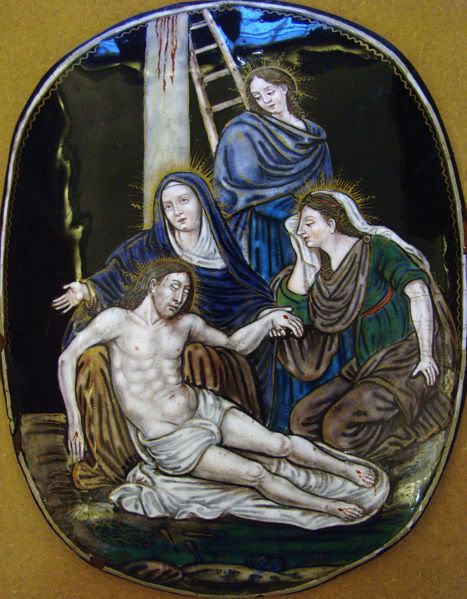 Prayer To Our Lady of Sorrows, by St. Bridget

O Blessed Virgin Mary, Immaculate Mother of God, who didst endure a martyrdom of love and grief beholding the sufferings and sorrows of Jesus! Thou didst cooperate in the benefit of my redemption by thine innumerable afflictions and by offering to the Eternal Father His only begotten Son as a holocaust and victim of propitiation for my sins. I thank thee for the unspeakable love which led thee to deprive thyself of the Fruit of thy womb, Jesus, true God and true Man, to save me, a sinner. Oh, make use of the unfailing intercession of thy sorrows with the Father and the Son, that I may steadfastly amend my life and never again crucify my loving Redeemer by new sins, and that, persevering till death in His grace. I may obtain eternal life through the merits of His Cross and Passion. Amen.
Mother of love, of sorrow and of mercy, pray for us.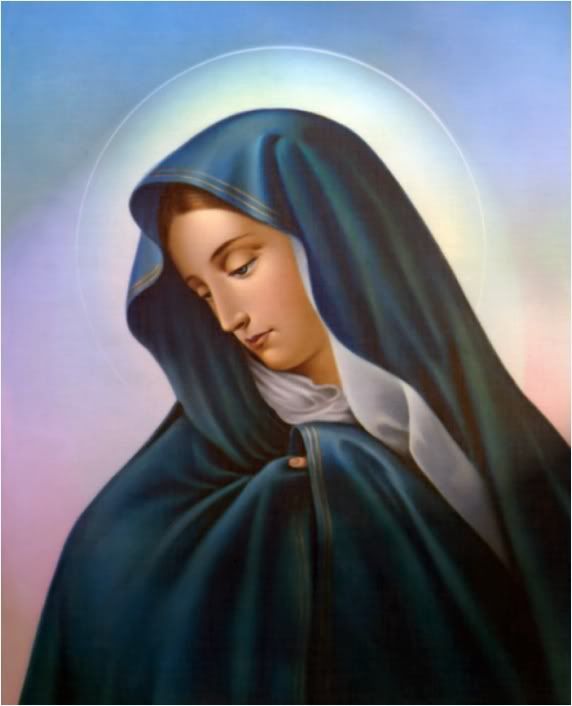 Saint Alphonsus Liguori's Prayer To The Mother Of Sorrows

O, my Blessed Mother, it is not one sword only with which I have pierced thy heart, but I have done so with as many as are the sins which I have committed. O, Lady, it is not to thee, who art innocent, that sufferings are due, but to me, who am guilty of so many crimes. But since thou hast been pleased to suffer so much for me, by thy merits, obtain me great sorrow for my sins, and patience under the trials of this life, which will always be light in comparison with my demerits; for I have often deserved Hell.
Amen.