---
To: Martin Tell
I hate it that the Mayans are always ringing my doorbell at dinner time.
How many times do I have to tell them that I am NOT interested in giving my beating heart for their silly sacrifice rituals???
That was the Aztecs. Though I suppose the Maya might have done it as well. (Shows what I know about "indigenous pipples, huh?)

30
posted on
10/05/2011 2:27:49 PM PDT
by
Zionist Conspirator
(Ki-hagoy vehamamlakhah 'asher lo'-ya`avdukh yove'du; vehagoyim charov yecheravu.)
---
To: Zionist Conspirator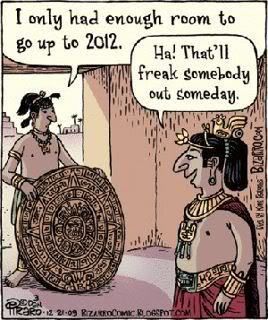 32
posted on
10/05/2011 2:33:01 PM PDT
by
Liberty Valance
(Keep a simple manner for a happy life :o)
---
To: Zionist Conspirator
Uh, I think your use of the word "Aztecs" is now officially classed as racist.
According to a recent PC history I read, 1493 (OK I only read half before I could not take anymore), the proper term is "The Triple Alliance."
I kid you not, but I will admit that "The Triple Alliance" reminds me of some 19th Century European power bloc, instead of THE GREATEST CIVILIZATION THE WORLD HAS EVER KNOWN, which is what all right-thinking people know the Aztecs, whoops, I mean The Triple Alliance, was.

35
posted on
10/05/2011 2:39:11 PM PDT
by
Martin Tell
(ask for the ancient paths, ask where the good way is, and walk in it)
---
To: Zionist Conspirator
The Mayans did do human sacrifices but not on the same scale as the Aztecs. In fact I would guess (though I'm not an expert on pre-Columbus American history) the Aztecs learnt it from the Mayans — the Mayans were the ones who extracted the heart quickly to sacrifice.
53
posted on
10/06/2011 1:29:48 AM PDT
by
Cronos
(http://www.freerepublic.com/focus/religion/2787101/posts?page=58#58)
---
FreeRepublic.com is powered by software copyright 2000-2008 John Robinson