---
To: Dr. Brian Kopp
After reading this article, I hope there is a rapture before this starts? LOL!
A monarch if true could be from a line from old royalty of europe or new creation. If this is true to it's form I really believe America will be taken out of the way as a world power. Whenever it fully comes forth.
What makes sense is the next generation will automatically be fooled because they have been deceived with the Harry Potter witchcraft is harmless notions. I wear the blessed exorcism medal( ST. Benedict Medal) cross out in the open at times. People who can't stop noticing it are always new agers or enchanters with occultic symbols around their necks. That's when I witness to them.
Since wearing when at nite I sleep better than before.
Thank you for sharing. Much to think about.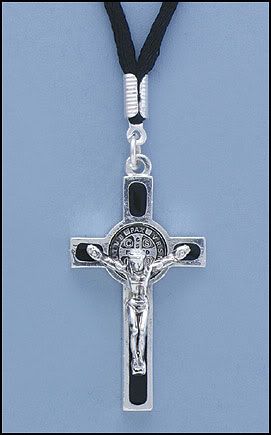 6
posted on
12/19/2011 1:08:17 AM PST
by
johngrace
(I am a 1 John 4! Christian- declared at every Sunday Mass ,Divine Mercy and Rosary prayers!)
---
To: johngrace
11
posted on
12/19/2011 5:27:24 AM PST
by
netmilsmom
(Happiness is a choice)
---
To: johngrace
What is the significance of that cross. I have one, but don't know what all the letters are for. Does it have a name so I could look it up?
13
posted on
12/19/2011 7:21:30 AM PST
by
Excellence
(9/11 was an act of faith.)
---
To: johngrace
Plenty of old royals running around. The trick would be to find one with a legal claim (not needed really).
15
posted on
12/19/2011 7:41:44 AM PST
by
redgolum
("God is dead" -- Nietzsche. "Nietzsche is dead" -- God.)
---
FreeRepublic.com is powered by software copyright 2000-2008 John Robinson