---
To: Salvation
Gal 5:2 Behold, I Paul say unto you, that if ye be circumcised, Christ shall profit you nothing.
Gal 5:3 For I testify again to every man that is circumcised, that he is a debtor to do the whole law.
Gal 5:4 Christ is become of no effect unto you, whosoever of you are justified by the law; ye are fallen from grace.
Gal 5:5 For we through the Spirit wait for the hope of righteousness by faith.
Gal 5:6 For in Jesus Christ neither circumcision availeth any thing, nor uncircumcision; but faith which worketh by love.
---
To: RnMomof7
Thank you for those quotes that came from the Bible that Catholics gave to you.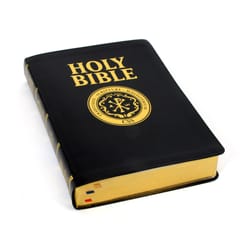 "We are compelled to concede to the Papists
that they have the Word of God,
that we received it from them,
and that without them
we should have no knowledge of it at all."

~ Martin Luther
4
posted on
05/03/2012 7:00:39 PM PDT
by
Salvation
("With God all things are possible." Matthew 19:26)
---
To: RnMomof7
Hi Rnmomof7- I noticed a week ago you were not here for awhile. No pun intended I hope you are alright. I stay in the religion thread mostly. Praise be to God.
We are certainly living in weird times in this Obama nation.

7
posted on
05/03/2012 7:13:48 PM PDT
by
johngrace
(I am a 1 John 4! Christian- declared at every Sunday Mass , Divine Mercy and Rosary prayers!)
---
FreeRepublic.com is powered by software copyright 2000-2008 John Robinson