---
To: johngrace
You're >right about that verse and prayer. +Action.
God works through prayer. Prayer works for good in the world, the Church, families & ourselves. = Part of the Mystery of eternal God. +Action. God wants >doers of the word working in his vineyard.
The main purpose of prayer: "Is to give enough >quiet time to God so we can hear God talking to us." I heard a Priest (from Africa) say that.
I was part of a pow-wow prayer (Rosary) after a daily Mass once. The Priest came back into the main Church where we were pow-wowing. The Priest waited until the pow-wow was over. (Here's the reason, I called it a pow-wow prayer.)
The Priest said something like this, "You're all praying too >fast. When you pray to God, you should be mentally quiet and pray >slow enough so God can talk to >you.
The Priest: God already knows all the prayers, what you want, what you need & of course: what you need from God is what you will get.
The Priest emphasized praying slowly so God can talk to you. The Priest spent a bit of time on proper prayer. And, stressed the importance of being mentally quiet. Just a few people there; most of them geezers&geezerettes & a couple of young-whippersnappers like me.
He did >NOT say anything about a 'centering prayer' as he spoke of the 'good old Catholic' prayers.
Since I brought it up: (In the same Church) I heard a Jesuit Priest (from New York City) say a 'centering prayer' >can be dangerous as it can open you up to the >darkness. = Referring to the devil or the thoughts you may have that are not Catholic.
There were a number of people having some 'pow-wow' prayers in that Church which were not >completely Catholic prayers.
Personally, I try to stick to the 'good old Catholic' prayers especially the ones with an indulgence.
I find that if I pray that famous >non-Catholic prayer SLOW enough, God will still speak to me: "Why me Lord?" = Through my conscience I hear, "Offer it up!" 1Peter4: 19, "As a result, those who suffer in accord with God's will hand their souls over to a faithful creator as they do good."
---
To: gghd
Amen!!
I heard of centering. There is confusion with this term. The enemy has hoodwinked a many of Christians.
If I remember there are two versions of this prayer. One is centering with Christ. The other adds "new age" stuff which is neopaganism. I have never done it.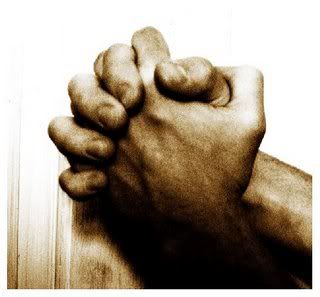 But you stick with traditional Christian prayers which are Classic Catholic you can not go wrong. Just remember we are asking with Mary for Prayers for the world. We do not adore/worship Mary. We with Mary Pray for our sinners at the hour of our death.
Some of our separated brethren still do not understand. Just love-em.
Thank you for your witness! I have read your posts at times.
Amen!!

6
posted on
05/05/2012 12:17:34 AM PDT
by
johngrace
(I am a 1 John 4! Christian- declared at every Sunday Mass , Divine Mercy and Rosary prayers!)
---
FreeRepublic.com is powered by software copyright 2000-2008 John Robinson