annalex
:
"You keep turning everything into breeding inside the species and selection afterwards."
I don't understand your confusion, it's not that complicated:
Step 1, you have a widely scattered species, all of whose members interbreed successfully with each other.

Step 2, a smaller sub-population of that species gets separated, let's say on a large island, and over time climate changes (i.e., colder) give survival advantages to mutations which help it adapt.

Step 3, as the sub-population changes (i.e., grows longer hair), it first becomes a new breed, or in the case of humans, we might say a new "nation" or "race".
The new breed looks different, but could still interbreed with its original species.

Step 4, the longer those two breeds are separated, and the more each one specialize-adapts to its different environment, the more numerous genetic mutations accumulate, then the less successful would be any attempts to interbreed.
In due time, two different breeds become two different sub-species.
Sub-species can still interbreed, but with increasing difficulty.

Step 5, kept isolated long enough, the two separated breeds, then sub-species, will eventually accumulate enough different genetic mutations to make them no longer able to interbreed.
Now, by scientific definition, those two sub-species have become separate species.
And again, the obvious examples are those two sub-species of Zebras, and one separate species -- none of whom you can tell apart by their fossils, except we know the separate Zebra species does not successfully interbreed with the other two sub-species.
These two Zebra sub-species can interbreed.

But neither interbreeds with this separate species of Zebra:

annalex: "Somehow, it becomes very important to you that breeding at the margin produces cases where further mating between breeds is difficult and only occurs when no other choice exists.
This has nothing to do with the evolutionary hypothesis."
No, that is the confirmed theory of evolution -- separated populations adapt separately to their different environments until they can no longer interbreed, at which point scientists classify them as different species.
That's the theory of evolution, in a nut-shell.
annalex: "Yet none of this provides a kind of evidence you really need: one species evolving into a separate one."
The evidence is everywhere for anyone to see, who doesn't deliberately blind themselves to truth.
annalex: "But I think all that you have shown with zebras and now cows, is routine natural selection of breeds that would have happened without any mutations whatsoever."
Do you not understand that DNA analysis maps out our entire genetic codes, and counts up the precise number of mutations separating any two individuals or species?
In the case of Zebras, those sub-species have relatively few mutation differences in their DNA, but the separate species of Zebra has many more.
Yes, on the outside, they look more-or-less the same, but their DNAs have so many differences they don't naturally interbreed.
In the case of a modern dairy cow versus its ancient Auroch ancestor, could they still interbreed?
Answer: likely, though it's impossible to say for certain, and every new generation of human-engineered cows grows more and more genetically separate from their wild ancestors.
annalex: "You also try to obfuscate the concept of species."
No, not "obfuscate" -- I've reported the definition of the word "species" -- populations which interbreed naturally.
annalex: "But evolution between species can ONLY happen through beneficial mutations: specimens with incompatible genomes cannot produce offspring..."
Precisely. Who said that annalex has a problem with reading comprehension?
When the genomes of separated sub-species mutate to become so incompatible they can no longer interbreed, then scientist say they are two different species.
annalex: "That is the mechanism the evolution cult postulates but for birds and mammals cannot prove."
First of all, "evolution" is not a "cult", it's an important part of science, and so your attacks on evolution are really attacks on all of science -- you are not just anti-evolution, you are also anti-science.
And that's fine, you're free to believe whatsoever you wish, but you can't have it both ways -- you can't be anti-science and also claim to represent "true science".
What you really represent is a theological commitment to Creationism, or some more recent mutation thereof.
Second, the proof of evolution is everywhere for anyone with eyes to see it.
So it takes a willful act of ignorance, or an unbreakable commitment to your theological views, to avoid the truth of evolution, FRiend.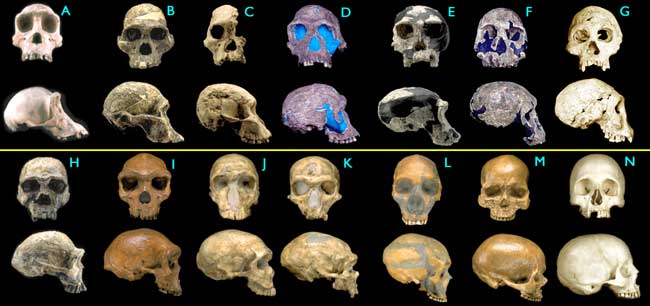 Of course it's a cult -- unlike any other science I know. Science explains. Cults sell. For example, confronted with an argument scientist speaks to the argument or says: I don't know. A cultist just repeats the original story till it sticks or the questioner goes away.
they don't naturally interbreed
Observe: "naturally". They could but they won't. There is a large swath of humanity I, too, wouldn't have interbred in my bachelor days. But put me on a deserted island with one, chances are great that I would. These "different species zebras" are all zebras. Mutations accumulating inside the zebra genome is a process that occurs alongside natural selection, but it is not a mechanism that would produce a new viable genome. If you call these a "different species zebra" that is your shaman's incantation.
I covered that particular line of pseudo-scientific salesmanship before.