---
To: annalex
annalex
:
"Of course it's a cult -- unlike any other science I know.
Science explains. Cults sell."
You obviously know more about cults than I do, and that may explain your eagerness to accuse "science" of something familiar to you: cults.
Evolution is one branch of science, and follows the same rules as all others, indeed, evolution draws much of its confirming data from virtually every other branch of science.
That's why I say an attack on evolution theory is an attack on all of science itself.
As for just who, exactly, researches, reports, proposes, "explains", teaches, clarifies, instructs or "sells" an idea, those are words you can define however you wish.
In the proper context, there's nothing wrong with any of them.
By definition, science is the opposite of a "cult".
First and foremost, science is a-religious -- not anti-religious, simply dedicated to the enterprise known as "methodological naturalism", which means: natural explanations for natural events.
Second, the essence of scientific activity is to question everything, even its own basic assumptions.
But every possible question is not necessarily scientific.
A question only becomes scientific when put in a format which can be answered using scientific methods.
And this rules out most of "Creationism" or "Intelligent Design" ideas.
annalex: "A cultist just repeats the original story till it sticks or the questioner goes away."
Sorry FRiend, but if you ask any scientist a question such as, "what is two plus two", he or she will repeat the same answer "till it sticks or the questioner goes away."
That's because much of the nature of truth doesn't change, no matter how you explain it.
annalex: "Observe: "naturally".
They could but they won't....
These "different species zebras" are all zebras.
Mutations accumulating inside the zebra genome is a process that occurs alongside natural selection, but it is not a mechanism that would produce a new viable genome.
If you call these a "different species zebra" that is your shaman's incantation."
The important concept for you to grasp here is that as any sub-species accumulates more and more mutations, becoming more and more different from other sub-species, it also becomes more and more difficult to interbreed, and when the point arrives that natural interbreeding is not successful, then scientists (not me, and certainly no "shaman") define them as different species.
The Zebra example is perfect in this regard, because the separate species of Zebra cannot successfully interbreed with those other sub-species.
Even when forced by humans, their offspring are more often not viable.
In that sense, it's similar to breeding horses and donkeys -- yes, you get a mule, but it's infertile, and so not naturally viable.
And by scientific definition (having zero to do with "shamans"), this is the precise dividing line between species and sub-species.
annalex: "I covered that particular line of pseudo-scientific salesmanship before."
You've covered nothing of any significance.
But I note how you are shifting from discussion (however weak) to insults (growing stronger), FRiend.
;-)

---
To: BroJoeK; annalex
Lost in this back and forth between one consistent and confident person with 100% of the facts on his side (BroJoeK) and one of the hundreds of scientfically illiterate FReepers (annalex),was this comment by annalex:

[BroJoeK keeps posting] "irrelevant detail, verbosity, and silly illustrations."

Which demonstrates the "other half" of the creationist brain - the half not wadded up with creationist dribble. It's the half that can't comprehend the details and the actual science involved in actual science. Their level of understanding of how much work and how many years goes into each and every new discovery is essentially zero.

Those "silly ilustrations" are anything but, and your hand-waving dismissal of them shows your true failing: This stuff is hard. This stuff uses big words. I can't handle it. God.

The only thing more pathetic is the fact that Free Republic has driven almost every scientifically literate person away in the last 10 years. Bravo to you, BroJoeK, Bravo.

140
posted on
05/25/2012 10:29:22 AM PDT
by
whattajoke
(Let's keep Conservatism real.)
---
To: BroJoeK
when the point arrives that natural interbreeding is not successful, then scientists (not me, and certainly no "shaman") define them as different species.
Unlike 2+2=4, this is an interesting statement, and the only one you made on the subject.
So is the definition of species "specimens that do not naturally interbreed" or is it "specimens that cannot produce a viable offspring regardless of conditions"?
Bonus question: Are dogs (insert a picture of a daschund and a dane here) a group of species or a single species?
Background: Dog breeders can produce a desired breed (sometime, and if the desire is within reason) without any mutations helping along, by pure selection. So therefore, while mutations do occur in subspecies differentiation, they are not the mechanism or at least not an essential mechanism.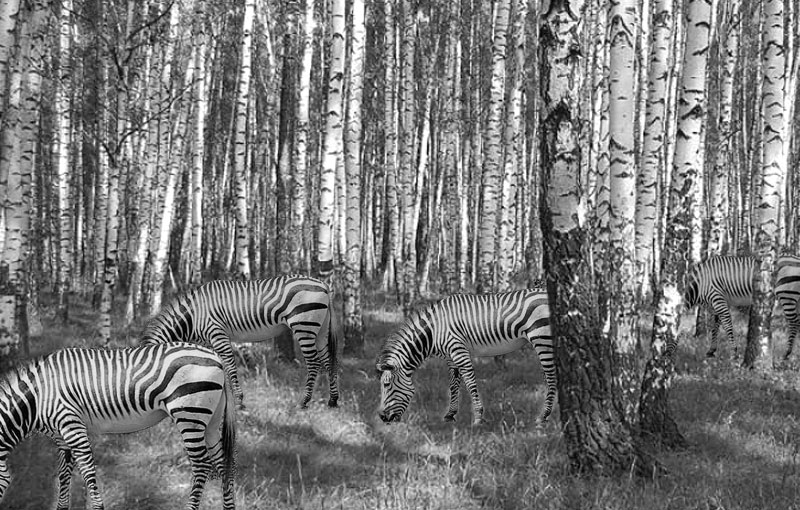 Scientific Proof
(No it is not a proof of anything. It is another picture of zebras, to show you that I can post pictures too. Come to think of it, it is shopped,-- considering the source).

141
posted on
05/25/2012 5:18:55 PM PDT
by
annalex
(http://www.catecheticsonline.com/CatenaAurea.php)
---
FreeRepublic.com is powered by software copyright 2000-2008 John Robinson