---
To: NKP_Vet
"It's always amazed me that protestants put down all things Catholic, but still believe (and attempt to interpret)that Catholic document known as the Holy Bible."
1. Not Protestant.
2. Either the Holy Scriptures are inspired by God, or they are not.
3. I simply pointed out the fallacy of the procedure in the face of Holy Scripture.
4. Finally, I do not believe the Holy Scriptures are a Catholic document-they are a God document.
28
posted on
06/29/2012 7:24:40 AM PDT
by
aMorePerfectUnion
("I'm comfortable with a Romney win." - Pres. Jimmy Carter)
---
To: aMorePerfectUnion
To know history is also to become Catholic. We, along with the Orthodox are the only Churches that stretch right back to Christ and the Apostles. The true faith has literally been handed from the apostles to their successors the bishops through the laying on of hands. We have a living Tradition of cherished teachings and memories going back to Christ himself.
Sadly the upheaval of the 16th century led to the Protestant denominations of today which were largely severed from history and Tradition. Sola Scriptura! (Scripture alone!) the cry went up, as if Scripture could be divorced from the Church, and sacred history that gave it birth. An immense and ahistorical rupture severed many Christians from their sacred inheritance.
Today there are often claims by many in the Protestant denominations that some Catholic teaching or another is either unbiblical or was invented in the Middle Ages or later. But to study history puts the lie to this claim and to read the Fathers of the Church is to enter a very Catholic world. To read the Fathers throws opens a door to the earliest centuries of the Church stretching back to as early as 100 AD a the very close of the Apostolic age. It is almost like a seamless garment. As the last Book of Scripture was being written around 90 AD, the first letters and documents of the Fathers began being circulated among the faithful. They cast light on the earliest history of the Church and we discover that world to be Catholic, a world wherein sacraments are on glorious display along with Scripture, a world where in authority and unity are insisted upon, a world of Bishops, Priests, Deacons and of the Popes. Protestant imaginings of the Church simply do not stand the test of history which testifies overwhelmingly to things Catholic.
http://blog.adw.org/2009/10/to-study-history-is-to-become-catholic/
---
To: aMorePerfectUnion
Martin Luther disagreed with you.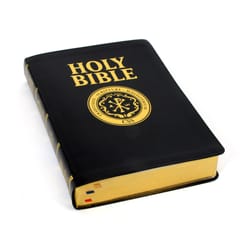 "We are compelled to concede to the Papists
that they have the Word of God,
that we received it from them,
and that without them
we should have no knowledge of it at all."

~ Martin Luther
41
posted on
06/29/2012 6:38:39 PM PDT
by
Salvation
("With God all things are possible." Matthew 19:26)
---
FreeRepublic.com is powered by software copyright 2000-2008 John Robinson