---
Feast of Saint Andrew (Catholic Caucus)
Murder in the Cathedral. | 1935 | T.S. Eliot


Posted on 11/30/2012 5:38:40 PM PST by johniegrad

Beloved, we do not think of a martyr simply as a good Christian who has been killed because he is a Christian: for that would be solely to mourn. We do not think of him simply as a good Christian who has been elevated to the company of Saints: for that would be simply to rejoice: and neither our mourning nor our rejoicing is as the world's is. A Christian martyrdom is never an accident, for Saints are not made by accident. Still less is a Christian martyrdom the effect of a man's will to become a Saint, as a man by willing and contriving may become a ruler of men. A martyrdom is always the design of God, for His love of men, to warn them and to lead them, to bring them back to His ways. It is never the design of man; for the true martyr is he who has become the instrument of God, who has lost his will in the will of God, and who no longer desires anything for himself, not even the glory of being a martyr. So, thus as on earth the Church mourns and rejoices at once, in a fashion that the world cannot understand; so in Heaven the Saints are most high, having made themselves most low, and are seen, not as we see them, but in the light of the Godhead from which they draw their being.

---
TOPICS: Catholic; General Discusssion
KEYWORDS:

St. Andrew, pray for us.

---
To: johniegrad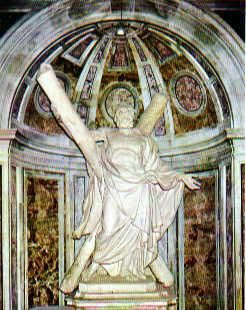 Saint Andrew The Apostle,
Patron Saint Of Scotland,
Pray For Us!



Keep Faith with the Fallen of Benghazi! Let the Obama Regime, for once, tell the Truth!

Fiat Justitia, Ruat Coelum!

Genuflectimus non ad principem sed ad Principem Pacis!

Listen, O isles, unto me; and hearken, ye people, from far; The LORD hath called me from the womb; from the bowels of my mother hath he made mention of my name. (Isaiah 49:1 KJV)
2
posted on
11/30/2012 6:02:05 PM PST
by
ConorMacNessa
(HM/2 USN, 3/5 Marines RVN 1969 - St. Michael the Archangel defend us in Battle!)
---
To: johniegrad
This post is a good reminder.
---
To: johniegrad
St. Andrew, the first evangelizer — he went out and got his brother, Peter.
4
posted on
11/30/2012 6:33:53 PM PST
by
Salvation
("With God all things are possible." Matthew 19:26)
---
To: johniegrad
5
posted on
11/30/2012 6:34:20 PM PST
by
Salvation
("With God all things are possible." Matthew 19:26)
---
FreeRepublic.com is powered by software copyright 2000-2008 John Robinson