---
To: AnalogReigns
If she was sinless certainly she would have known and understood the things of God, but Mary could not understand why she had been selected for this honor
Sinlessness is not omniscience. A finite human being cannot possibly reason as the infinite God does. Being sinless would also mean possession of great humility. A sincerely humble individual wouldn't presume to understand or reason as God does. Nor would she presume to know all about the Trinity prior to its revelation.
Mary's conformity to the law is an admission she was a sinner needing to be restored by cleansing, only sinners need cleansing
If she hadn't undergone the purification rite or offered the required sacrifices the author probably would have called her disobedient and claimed a sinless one would have obeyed. Darned if she did and darned if she didn't! Jesus chose to submit to John's baptism. Using the author's line of reasoning Jesus must have been a sinner too.
Proceed to worship,...
Yeah, I wondered how long it'd be til someone used the w-word. Of course Catholics honor Mary. But we don't worship her in the sense that word is used today. Nor did the Pope say that we should. The word also means to reverence, honor, and respect. Are Brits worshipping officials they refer to as "your worship?" Of course not.

---
To: PeevedPatriot
"Proceed to worship,..." is a quote from a Pope from the 1850s. Our vocabulary has not changed THAT radically in 150 years.
As to so called "veneration" of Mary not being worship, there is the "Duck principle", an application of William of Ockham's "razor" :
If it LOOKS like a duck,
WALKS like a duck,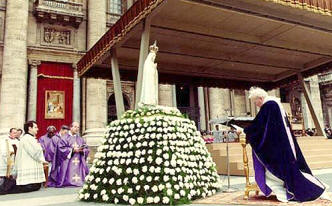 QUACKS like a duck,
and SMELLS like a duck,
IT'S A DUCK!!!

49
posted on
12/08/2012 9:49:32 AM PST
by
AnalogReigns
(because the real world is not digital...)
---
FreeRepublic.com is powered by software copyright 2000-2008 John Robinson