---
Pray For the Peace of Jerusalem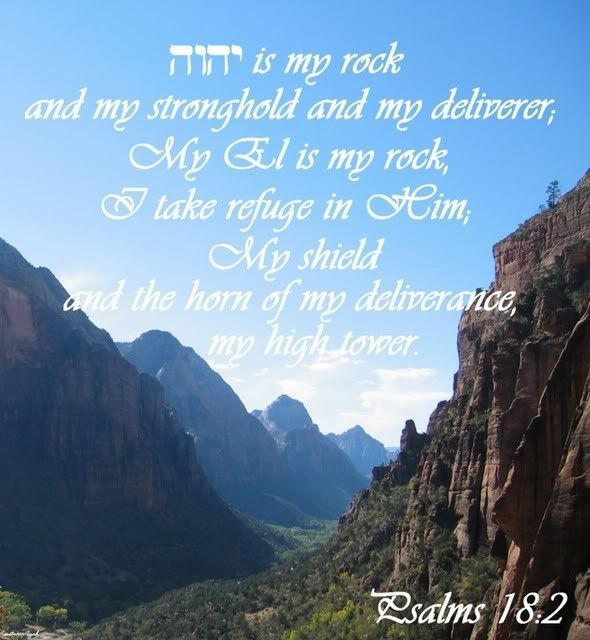 Our Lord and Heavenly Father
YHVH Keren-Yishi,
YHVH, LORD, Horn of My Salvation
You are My Rock
You Are My Defense
My Fortress and My Deliverer
Like a Shofar, Your Name Rings Out,
A Call to Battle, And A Call To Prayer.
Your Name is a Clarion Call to Gather Your Beloved To You.

We pray for the Repentance, Restoration, and Renewal of Our Beloved Nation.

The LORD is my rock, my fortress and my deliverer; my God is my rock, in whom I take refuge. He is my shield and the horn of my salvation, my stronghold.

We Pray For The Peace of Jerusalem.
We Pray for Our Own Leaders in America,
May They Speak Comfort to Jerusalem.
May We NOT be Numbered Among Israel's Enemies, God Forbid!
We Pray For The American People,
May They NOT be Deceived by the Media.
May Their Eyes be Opened with regard to God's People Israel.

We pray for an END to Lies,
Slander, Blood Libel, Propaganda,
and Antisemitism against Your Beloved.
We Pray For an End to Slavery,
Hostage-Taking,
and Piracy wherever it is Practiced Around the World.
We Beseech You on Behalf of Our Captive Brethren,
Christians and Jews,
In Bondage in Hostile lands.

We Plead For Israeli Control Over All the Holy Sites in Israel,
so that All Faiths may visit them.
We Pray For Bibi Netanyahu, and the Leaders of Israel
May They Receive Wisdom from You to do the Right Thing.
We Pray For The Swift and Sure Coming of Messiah,
Blessed Be He,
To Establish His Kingdom,
and Make All Things Right.



Blessings to All Who Visit This Garden of Prayer




ML/LTOS
(El Kabong)
---
To: left that other site; tajgirvan; DollyCali; dangerdoc; seoul62; etabeta; ...
Pray For the Peace of Jerusalem


There is a reason that Trumpets and Bugles are called "Horns". The Original Instruments were actually made from the Horns of Rams and Bulls, Hollowed out and played like a Bugle. The longer and more curvy the horn, the deeper and more powerful the SOUND. The Modern Shofar is a Beautiful example of this very ancient instrument.

Because the horns are the both offensive and defensive weapon of the animal who grows them, the horn is a symbol of Pure POWER and Strength. Ancient Altars had "horns" on each corner to demonstrate the Power of God.

Ancient Armies did not have telephones, so the Horn was used to marshal the troops. There was a different horn call for each maneuver. Only the Screeching sound of the Horn could be heard over the noise of Battle. Up to and including the American Civil War, The Vanguard contained the Horns to guide thousands of men. From as far back as Jericho, the musicians were the first ones into the battle. We Continue this Tradition Today with Reveille and Taps.

In both Judaism and Christianity, the Horn represents, Power, Might, Salvation, Rescue, and The Gathering In of Believers. Rosh Hashanah is alternately called "The Feast of Trumpets", and peolple continue to learn how to blow specific "Trumpet Calls" for this Ancient instrument to this day.

We pray for the Repentance, Restoration, and Renewal of Our Beloved Nation.

The LORD is my rock, my fortress and my deliverer; my God is my rock, in whom I take refuge. He is my shield and the horn of my salvation, my stronghold.

Come and Pray For The Peace of Jerusalem, For Our FRiends in Need, For persecuted Believers, and For Our Beloved Nation.




Blessings to All Who Visit This Garden of Prayer




ML/LTOS
(El Kabong)
2
posted on
03/03/2013 4:42:34 AM PST
by
left that other site
(Worry is the darkroom that developes negatives.)
---
To: left that other site
Father God our thankful heart is yielding to thy Word and power, and yearning to be of service to thy Kingdom. Thy patience, blessing us over and over with mercy, grace, love, kindness, forgiveness. Lord we pray for the peace of Israel, Jerusalem, for the leaders, the persecuted believers, the lost, for the restoraton of America to our former christian values, and for the salvation of believers in Thee, in Jesus name, Amen.

---
To: left that other site
10
posted on
03/03/2013 2:34:04 PM PST
by
Irish Rose
(Will work for chocolate.)
---
FreeRepublic.com is powered by software copyright 2000-2008 John Robinson