---
To: NYer
While no one has so stated, I expect that these "traditionalist catholics" would prefer to see the entire Latin Church restored to the Traditional Latin Mass.
Me too, frankly. And some at the Vatican apparently agree: Vatican official: "The new Mass is a passing phase. In 50 years, that will be entirely clear."
I get the impression from their comments that they hold the Novus Ordo liturgy in contempt and feel the new pope should adopt the TLM as the form of liturgy he will celebrate.
Trads can dream. I attend the TLM every Sunday and the Novus Ordo on weekdays. Someday I hope I am able to attend the TLM daily.
Had an Eastern Cardinal been elected, I wonder how they would have reacted.
Many trads have taken refuge, short term or long term, in the Eastern Rites. We attended Byzantine Divine Liturgies for 3 years. I don't know any trads that have a problem with eastern rite hierarchy in any way whatsoever.
In reading through some of the comments posted on that site, what upset me most were those directed at Cardinal Bergoglio's attendance at various non-Catholic worship services. Those comments stand in contrast to UNITATIS REDINTEGRATIO.
Most trads have a real problem with the documents of Vatican II. The SSPX believes VII ushered in false ecumenism. Trads want to see the return of true ecumenism, i.e., efforts to bring non-Catholics into the One, True Church. I don't see that as a bad thing. The "ecumenical" practices of the post-Vatican II Church are not beyond reproach.

---
To: Dr. Brian Kopp; NYer
Thanks for your comments on this thread. I was happy to see yours over at Rorate Caeli yesterday, Brian, and appreciated very much your reply to LovedSinner, NYer.
I'm one of those who's wary in the extreme but having caught his first appearance and blessing live, my heart's been full of joy from the get-go and I continue to be impressed by what I'm reading. Very hopeful.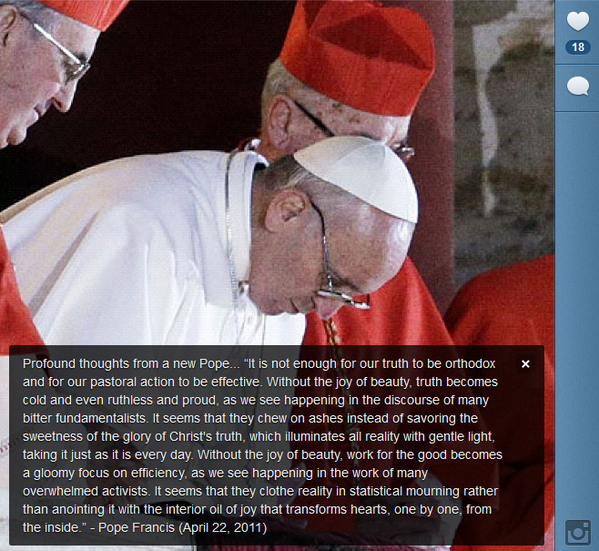 43
posted on
03/15/2013 8:55:30 PM PDT
by
Askel5
(† Truth suffers, but never dies -- Teresa of Avila †)
---
FreeRepublic.com is powered by software copyright 2000-2008 John Robinson