---
Perceptive commentary (on the media): O'Grady, Douthat, Bottum, Allen, Erlandson
Catholic Culture ^ | March 18, 2013 | Phil Lawler


Posted on 03/20/2013 5:42:51 AM PDT by NYer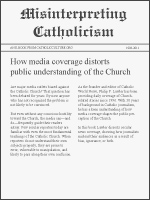 The election of Pope Francis produced an explosion of media commentary, and I cannot pretend that I have read more than a small portion of the editorials that appeared immediately after the historic choice of a Pontiff from the New World. But in the past few days a few commentaries have struck me as particular worthwhile:
---
TOPICS: Catholic; Current Events; Religion & Culture
KEYWORDS:



---
To: netmilsmom; thefrankbaum; Tax-chick; GregB; saradippity; Berlin_Freeper; Litany; SumProVita; ...
2
posted on
03/20/2013 5:43:10 AM PDT
by
NYer
(Beware the man of a single book - St. Thomas Aquinas)
---
To: NYer
3
posted on
03/20/2013 8:45:05 AM PDT
by
SumProVita
(Cogito, ergo....Sum Pro Vita - Modified Descartes)
---
To: NYer
Thanks for this, nyer. This is like an honor roll of the most credible people in the press.
4
posted on
03/20/2013 9:41:08 AM PDT
by
Mrs. Don-o
(May the Lord bless you and keep you. May He turn to you His countenance and give you peace.)
---
To: NYer
5
posted on
03/26/2013 7:13:29 PM PDT
by
Salvation
("With God all things are possible." Matthew 19:26)
---
FreeRepublic.com is powered by software copyright 2000-2008 John Robinson