---
To: annalex
I think the icon in the chapel is Our Lady of Częstochowa.

---
To: Pyro7480; NYer
Thank you, -- you are right!
I googled up this story:
Dear Friends,

I had to show this picture of the two Popes praying together at the chapel at Castel Gandolfo with the image of Our Lady of Czestochowa there front and center. Many will think Pope John Paul II placed it there, but that would not be correct. It was placed there by Pope Pius XI in the 1920's. The reason is the following. Before becoming Pope, Archbishop Achille Ratti was named Nuncio to the newly independent Poland in 1918. Poland was invaded by Soviet Russia in 1920 and everything seemed lost. It appeared the numerically superior Soviets would overrun Poland and invade Germany (then in chaos with multiple Communist insurrections) and by the beginning of August 1920 they were at the gates of Warsaw. The entire diplomatic corps fled along with the Polish civilian government. The only one who stayed was Achille Ratti who prayed along with Polish bishops in front of the image of Our Lady of Czestochowa. Then, on the eve of the feast of the Assumption (to this day August 15 is also celebrated as the Polish Armed Forces Day) the Head of State of Poland and Commander-in-Chief Joseph Pilsudski launched a surprise attack against the Soviets. He himself was shocked how easily he was able to encircle the Soviets from the south while the northern front held off a Soviet attack. The Soviets fled in panic and some even saw a vision of a lady who was covering Warsaw with her cloak. The Poles called the battle the Miracle on the Vistula (the river that runs through Warsaw). The Soviets didn't stop until they almost reached Moscow. In honor of this, in gratefulness to Our Lady of Czestochowa, when Achille Ratti was elected Pope in 1922, he placed Her image in the chapel at Castel Gandolfo where it is to this day. God bless, Tom
And here is the prototype of the icon in Castle Gandolfo. I could not find the exact that icon, though.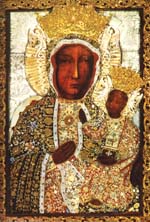 Our Lady of Czestochowa
a.k.a. "The Black Madonna"

Jasna Gora Sanctuary in Czestochowa
---
FreeRepublic.com is powered by software copyright 2000-2008 John Robinson