---
To: Da Coyote
It's good to take a look at how the modern sciences arose, which was as natural philosophy, which in turn arose from a theologically perceived imperative to investigate how the glory of deity was expressed in nature. (While having an unabashed Christian world view, I am speaking in general terms which could be understood by those of different faiths.)
Anyhow, when the modern sciences begin to presume that they are self contained philosophical systems, that they can in fact rule out spirit in spite of mankind's implicit entwinement in all manner of spiritual things, they presume to bear a very heavy load. So far they bat very miserably as far as offering any viable alternative to spirituality. Psychology is the best they can do, and this is a psychology that does not even acknowledge spirit. Psychology of that kind also cannot furnish any moral imperative; it can observe events but it cannot ever say anything is good or bad or urge someone to do something in one way rather than in another way or to refrain from doing something.
5
posted on
07/17/2013 11:50:46 AM PDT
by
HiTech RedNeck
(Whatever promise that God has made, in Jesus it is yes. See my page.)
---
To: HiTech RedNeck
This was a good, but dry, read: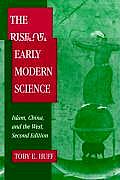 Toby Huff examines the long-standing question of why modern science arose only in the West and not in the civilizations of Islam and China, despite the fact that medieval Islam and China were more scientifically advanced. Huff explores the cultural contexts within which science was practiced in Islam, China, and the West. He finds major clues in the history of law and the European cultural revolution of the twelfth and thirteenth centuries, as to why the ethos of science arose in the West and permitted the breakthrough to modern science that did not occur elsewhere.
8
posted on
07/17/2013 11:54:59 AM PDT
by
MrB
(The difference between a Humanist and a Satanist - the latter admits whom he's working for)
---
To: HiTech RedNeck
Or, as someone once said: Science is about how. Religion is about why.
And I will add: Understanding of the latter is the higher pursuit.
15
posted on
07/17/2013 12:01:57 PM PDT
by
cuban leaf
(Were doomed! Details at eleven.)
---
To: HiTech RedNeck
Nothing wrong with rat mazes and behavioral psychology. It just stumbles when it gets into the morality of motivation.
43
posted on
07/17/2013 1:56:29 PM PDT
by
imardmd1
(An armed society is a polite society -- but dangerous for the fool --)
---
FreeRepublic.com is powered by software copyright 2000-2008 John Robinson