---
To: HiTech RedNeck
This was a good, but dry, read: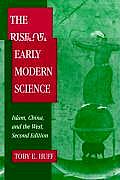 Toby Huff examines the long-standing question of why modern science arose only in the West and not in the civilizations of Islam and China, despite the fact that medieval Islam and China were more scientifically advanced. Huff explores the cultural contexts within which science was practiced in Islam, China, and the West. He finds major clues in the history of law and the European cultural revolution of the twelfth and thirteenth centuries, as to why the ethos of science arose in the West and permitted the breakthrough to modern science that did not occur elsewhere.
8
posted on
07/17/2013 11:54:59 AM PDT
by
MrB
(The difference between a Humanist and a Satanist - the latter admits whom he's working for)
---
To: MrB
One had to accept an imperative to "do science" before one actually carried it out. The more focused and intense the imperative, the more effect the obedience had. Seems glaringly obvious in retrospect. Anyhow, if sciences presume to nullify the concept of imperative, then they ultimately commit suicide (well actually, imperative does not go away, because it's built into the spiritual universe, but now no longer understood according to its divine root, it gets to do all sorts of mischievous things — case in point the global warming craze).
11
posted on
07/17/2013 11:59:26 AM PDT
by
HiTech RedNeck
(Whatever promise that God has made, in Jesus it is yes. See my page.)
---
To: MrB
The James Burke series "Connections" from 1979 argued that, and I use my own interpretation of his words, if a dirt farmer in china invented the airplane, the ruling class would thank him and give him the boot back to his farm. There was no incentive to be inventive. Meanwhile, western civilization worked hard to protect the rights of the inventor to keep any profits it generated. This incentivized countless tinkerers to change the world rather rapidly.
12
posted on
07/17/2013 12:00:05 PM PDT
by
cuban leaf
(Were doomed! Details at eleven.)
---
FreeRepublic.com is powered by software copyright 2000-2008 John Robinson