---
To: markomalley; metmom
Pope Francis: Church can't 'interfere' with gays
"(CNN) - Pope Francis said the church has the right to express its opinions but not to "interfere spiritually" in the lives of gays and lesbians, expanding on explosive comments he made in July about not judging homosexuals."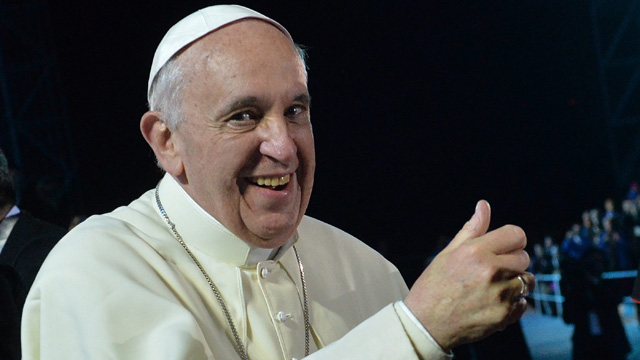 ------------------------------------------
"24 Therefore God gave them over in the sinful desires of their hearts to sexual impurity for the degrading of their bodies with one another. 25 They exchanged the truth about God for a lie, and worshiped and served created things rather than the Creator—who is forever praised. Amen. 26 Because of this, God gave them over to shameful lusts. Even their women exchanged natural sexual relations for unnatural ones. 27 In the same way the men also abandoned natural relations with women and were inflamed with lust for one another. Men committed shameful acts with other men, and received in themselves the due penalty for their error. 28 Furthermore, just as they did not think it worthwhile to retain the knowledge of God, so God gave them over to a depraved mind, so that they do what ought not to be done.
Romans 1: 24-28
__________________________________________________________________________
Pope Francis assures atheists: You don't have to believe in God to go to heaven
"Francis wrote: "You ask me if the God of the Christians forgives those who don't believe and who don't seek the faith. I start by saying – and this is the fundamental thing – that God's mercy has no limits if you go to him with a sincere and contrite heart. The issue for those who do not believe in God is to obey their conscience. "Sin, even for those who have no faith, exists when people disobey their conscience."
--------------------------------------------------------
"12 All who sin apart from the law will also perish apart from the law, and all who sin under the law will be judged by the law. 13 For it is not those who hear the law who are righteous in God's sight, but it is those who obey the law who will be declared righteous. 14 (Indeed, when Gentiles, who do not have the law, do by nature things required by the law, they are a law for themselves, even though they do not have the law. 15 They show that the requirements of the law are written on their hearts, their consciences also bearing witness, and their thoughts sometimes accusing them and at other times even defending them.) 16 This will take place on the day when God judges people's secrets through Jesus Christ, as my gospel declares.
Romans 2: 16-16

---
To: SkyPilot
"Sin, even for those who have no faith, exists when people disobey their conscience."
Sin, even for those who have no faith, exists when people disobey God's Law, even if they don't believe in God.
People can have a seared conscience, which makes it useless for determining what is and isn't sin.

4
posted on
09/19/2013 9:44:26 AM PDT
by
metmom
( For freedom Christ has set us free; stand firm therefore & do not submit again to a yoke of slavery)
---
FreeRepublic.com is powered by software copyright 2000-2008 John Robinson