Air Power
Henschel Hs-129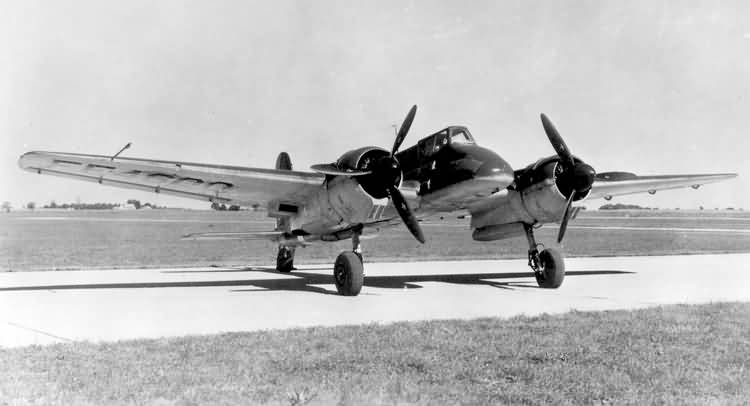 Henschel's Hs-129 was the Luftwaffe's first aircraft designed from the start to be used as a ground attack aircraft (the famed Ju-87 was a dive-bomber). Attempts at modifying other airframes with extra armor proved to be less than satisfactory. When the dust settled, there were two contenders, both of which performed about the same: the Hs-129 and an armored version of the FW-189. Seeing that the Hs-129 had a greater prospect of continued development as well as being a smaller aircraft and therefore a smaller target, it was chosen in September 1939.
Prototype versions of the 129 were powered by two Argus inline, air-cooled engines and had two 7.9mm MG 17 machine guns and two Oerlikon MG/FF 20mm cannon. However the preproduction Hs-129A-0 had the Oerlikon cannon replaced with Mauser MG 151/20 cannon. These weapons had a much higher rate of fire than the Oerlikon guns. It was found that the Argus engines were seriously underpowered and other than being used for initial testing and unit familiarization, were quickly passed on to training units.
Anticipating the Luftwaffe's refusal to accept the production Hs-129A-1, Henschel proposed building a slightly larger version powered by the more powerful Gnôme-Rhône 14M engine. The Luftwaffe didn't want any delays encompassed by a redesign and Henschel was told to convert the A-1 airframes to accept this new engine, the type being the Hs-120B-0. These engines were produced in two variants, each turning a different direction, one clockwise and the other counterclockwise. This prevented any torque problems with takeoff and landing. Despite the problems associated with this engine, it was used on all succeeding variants of the Hs-129.
Differences from the B-0 to B-1 were mostly minor, but the biggest was the cockpit. The vee shaped windscreen was replace with a larger, flatter paneled one. A variety of underfuselage weapons racks were available for the Hs-129 to carry a number of different weapons. Other weapons such as a pack with four 7.9mm machine guns, a bomb carrier for four 100kg bombs were designed for the 129. However, it was the MK 101 30mm cannon that really made the Hs-129 a superb anti-tank weapon.
The B-2 was version built in the greatest numbers, having just some minor differences from the B-1 including higher rated Gnôme-Rhône 14M engines and the ability to handle the BK 103 30mm gun later in 1943. The final variant was the C-1 with the 75mm cannon. There were less than a handful of these completed and only one or two actually saw any action in the last months of the war.
The 129 served primarily in North Africa and in the Eastern Front, not being used at all in the Western Front. The only air arm other than the Luftwaffe to use the aircraft was Romania, which used them against the Germans after they changed sides late in 1944.
The first pilot to earn the Ritterkreuz - Knight's Cross for his tank kills in the Hs-129 was Hptm. Rudolf-Heinz Ruffer for his 72 tank kills on 9 June 1944. He was killed by flak in July 1944. Less than a handful of 129 pilots would earn that distinction during the war.
This small twin-engine airplane was developed towards the late 1930's as a pioneering concept in attack warplanes, to meet a requirement to carry at least two 20-mm cannon and extensive armour protection. Henschel designed the HS 129 and the first prototype (of three in all) flew in early 1939. It was made of very sturdy construction, with a low-wing monoplane design, a distinctive triangular section fuselage accommodating an armoured nose and a very "cosy" cockpit with thick armoured glass.
A more powerful engine was fitted to production Hs 129 aircraft, which were redesignated Hs 129B series, and entered service in 1942. A total of just over 850 aircraft, in several variant forms, was produced, with most being employed over the Eastern Front against Russia - although smaller numbers were deployed to North Africa, Italy and France.
The Hs 129B-3 was a converted aircraft design to carry an electropneumatically operated 75-mm BK 7.5 gun under the fuselage, proving itself to be a formidable tank buster, able to withstand a fair amount of damage caused by anti-aircraft guns, even though it was very difficult to fly.
There are no surviving Hs-129s, only a cockpit shell exists in Australia.
---
Type: Close Support and ground attack aircraft
Origin: Henschel Flugwerke AG
Crew: One
Models: A & B
First Flight
Hs 129V-1: Early 1939
Hs 129B: October 1941
Service Delivery:
Hs 129A-0: Early 1941
Hs 129B: Late 1942
Final Delivery: N/A
Number Produced: 841 B-Series (879 total)


---

Engine:
Hs 129S Series:
Model: Argus As 410A-1
Type: Ari-Cooled inverted V12
Number: Two Horsepower: 495 hp

Hs 129B Series:
Model: Gnome-Rhône 14M 04/05
Type: 14-Cylinder two-row radials
Number: Two Horsepower: 690 hp


---

Dimensions:
Wing span: 46 ft. 7 in.(14.2m)
Length: 31 ft. 11¾ in. (9.75m)
Height: 10 ft. 8 in. (3.25m)
Wing Surface Area: 312.16 Sq. Ft. (29.00²)

Weights: Hs 129B-1, Typical
Empty: 8,940 lb. (4060 kg)
Loaded: 11,265 lb. (5110 kg)

Performance: Hs 129B-1, Typical
Maximum Speed: 253 mph (408 km/h)
Initial Climb: 1,390 ft/min (425 m/min)
Service Ceiling: 29,530 ft. (9000m)
Range: 547 miles (880km)

Armament:
Hs 129B-1/R1 & Hs 129B-1/R-4:
Two 7.92mm MG 17 Machine Guns in nose.
Two 20mm MG 151/20 cannon in nose.

Hs 129B-1/R2:
Two 7.92mm MG 17 Machine Guns in nose.
Two 20mm MG 151/20 cannon in nose.
One 30mm Mk 101 cannon mounted under fuselage.

Hs 129B-1/R3:
Two 7.92mm MG 17 Machine Guns in nose.
Two 20mm MG 151/20 cannon in nose.
Four 7.92mm MG 17 Machine Guns in ventral box.

Hs 129B-2 Series:
Two 13mm MG 131 Machine Guns in nose.
Two 20mm MG 151/20 cannon in nose.
Various weapons were fitted inclusding 37mm BK 3.7 and 75mm BK 7.5. An interesting weapon was a battery of six 75mm smoothbore recoiless rifles that fired downwards and to the rear. This system was fired by an automatic magnetic trigger that fired when the aircraft flew over metal objects. This system was reported to be quite successful.

Payload:
Hs 129B-1/R1:
Fuselage racks for two 110 lb. or 48 fragmentation bombs.

Hs 129B-1/R4:
Fuselage racks for up to 551 lb. of bombs.


---
---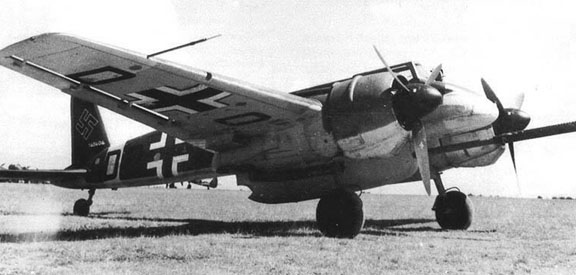 Note the big 75mm gun in front
---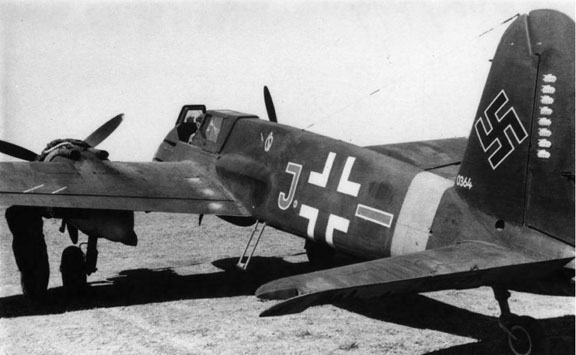 Rear view, notice "tank kill" markings.
---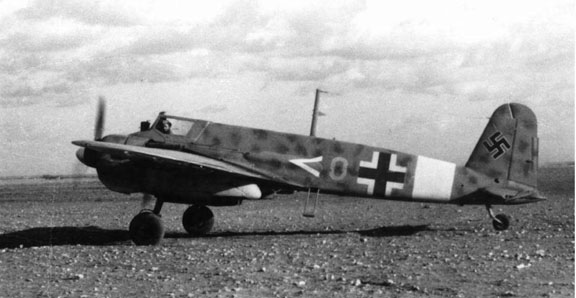 ---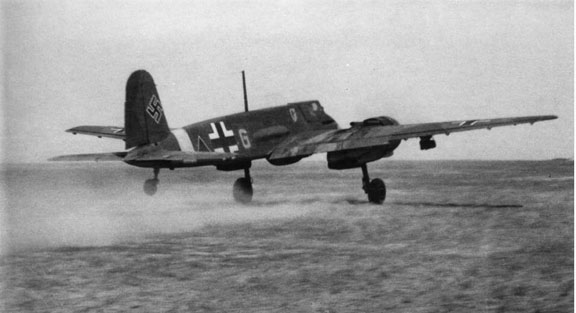 ---
---
All information and photos Copyright of
Warbird Resource Group
Neat plane, thanks Johnny.