---
..........
---
---
To: All
.....
"If you are able, save for them a place inside of you and save one backward glance when you are leaving for the places they can no longer go.

Be not ashamed to say you loved them, though you may or may not have always. Take what they have taught you with their dying and keep it with your own.

And in that time when men decide and feel safe to call the war insane, take one moment to embrace those gentle heroes you left behind."

Major Michael Davis O'Donnell
1 January 1970
Dak To, Vietnam
Listed as KIA February 7, 1978


---
....

MOMENT OF SILENCE

Along with other Americans, you are asked to spend a Moment of Remembrance on Memorial Day at 3:00 p.m. local time (duration: one minute). The time 3:00 p.m. was chosen because it is the time when many Americans are enjoying their freedoms on the national holiday.

The Moment does not replace the traditional Memorial Day observances. It is intended to a be a unifying act of remembrance for Americans of all ages. As you participate in the Moment you are helping reclaim Memorial Day for the noble and sacred reason for which it was intended—to honor those who died in service to our Nation.

During that brief time, except for a bugler sounding "Taps," Americans of every nationality are being urged to take a moment to reflect on the blessings of this country.


Taps
2
posted on
05/29/2006 5:19:09 AM PDT
by
snippy_about_it
(Fall in --> The FReeper Foxhole. America's History. America's Soul.)
---
To: snippy_about_it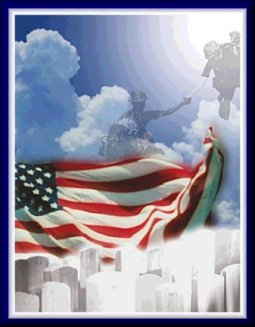 Welcome Home
9
posted on
05/29/2006 8:24:22 AM PDT
by
The Mayor
( We are moving in on Albany! http://www.newyorkcoalition.org)
---
To: snippy_about_it
Snippy, I'm days late, but this is a beautiful Memorial Day Remembrance.

Days late on viewing the thread, but wasn't late in Memorial.
---
To: snippy_about_it; All
Howdy, All,

We have an enemy more terrible than Hitler's Nazis. We have an enemy more implacably malevolent than Josef Stalin.

We have been heavily damaged by this enemy. We are losing.

"To protect the Constitution from all enemies either foreign or domestic." Remember the Military oath. An oath is forever.

I am not talking about Moslem fanatics. I am talking about our domestic enemy. El Queda's ilk are nothing in comparison.

60
posted on
06/04/2006 10:15:26 AM PDT
by
Iris7
(Dare to be pigheaded! Stubborn! "Tolerance" is not a virtue!)
---
FreeRepublic.com is powered by software copyright 2000-2008 John Robinson