---
To: alfa6
Nice, Alpha. You have a way with images.
A bit of general background on the
Alaskas
-
Naval studies done mostly before 1939 indicated that enemy commercial and logistical destruction could most effectively be done with a combination of surface warships and submarines. Convoys were made to work during the war against U-Boat attack but would have been utterly and helplessly destroyed by a
Graf Spee
type Panzerschiffe.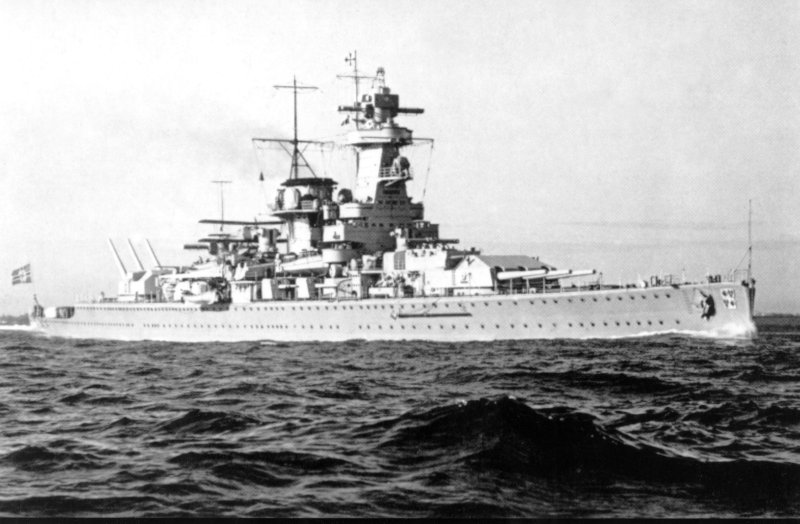 Study of the Battle of the River Platte is useful.
Graf Spee
could out gun any warship she could not run away from. Her armor and made attack upon her with less than 8" high velocity rifles simply wasteful. Battlecruisers with their long range heavy weapons and great speed would get the job done nicely but were very few and expensive and vital to the main job of keeping the Kriegsmarine in port. Recollect
Hood
and
Bismark
. Instead cruisers got the job done at the River Platte just fine but it took lots of luck and fine Royal Navy cunning in the old tradition. And plenty of guts.
http://en.wikipedia.org/wiki/Battle_of_the_River_Plate
It became likely that Panzerschiffe would rapidly evolve into machines totally outmatching the largest 8" heavy cruisers. Enter
Alaska
.
With hindsight one sees that the
Alaska
ships had inadequate anti-aircraft capability. Six turrets with twin mount 5" 38 caliber guns and scads of 40mm seemed like ridiculous overkill in 1938 but proved inadequate in '43 - '45. I does appear that Alaska was a darn fine shot with her anti-aircraft batteries. Such is the tradition of the United States Navy.
Naval surface to air technique in WWII were an American show. If one has the chance take a look at Navy anti-aircraft gunnery control equipment from 1944. Open the inspection covers and look inside the computers. You will never see better workmanship or design. (No digital equipment available in those days.) The Imperial Japanese Navy was a good teacher, if strict, shall we say.
Much has been learned over the years from Royal Navy gunnery and anti-submarine practice just as compartmentalization, ammunition and propellant storage and handling, damage control technique etc. were learned from the Germans. The Navy is stupid on occasion, the torpedo problems in the Pacific War for example, but not often and rarely for very long. I am still embarrassed by the torpedo story, damn their eyes.
44
posted on
09/12/2006 12:27:55 PM PDT
by
Iris7
(Dare to be pigheaded! Stubborn! "Tolerance" is not a virtue!)
---
To: Iris7; All
Someone please explain to a old ground pounder, why the German ships have numerous port holes vs. US ship, apparently of later design, that don't?

TIA

---
FreeRepublic.com is powered by software copyright 2000-2008 John Robinson