Battle on the Basra Road
When CPT Ken Pope led his troop of M1A1 Abrams tanks and M3A2 Bradley Cavalry Fighting Vehicles over a ridge west of the Basra Road on 27 February 1991, he was surprised to find over a dozen Iraqi tanks, armored personnel carriers, and assorted wheeled vehicles with supporting infantry strung out less than 1,000 meters to his front. But the Iraqis were even more surprised. Pope recalled that several Iraqis "were standing outside their vehicles" and added that "it looked like they had stopped for a quick maintenance halt." It was the fourth day of the U.S. Army's ground attack against Iraq, and Pope was about to begin his last battle of the Persian Gulf War.

The war resulted from Saddam Hussein's sudden invasion of its Arab neighbor Kuwait on 2 August 1990. In response to Saddam's blatant act of aggression, President George Bush ordered U.S. troops, aircraft, and warships to Saudi Arabia to thwart a possible invasion of that country by Iraqi forces. Five days after the invasion, the first U.S. soldiers, a brigade of the 82nd Airborne Division, flew out of Charleston AFB, SC, bound for Saudi Arabia. In time, the entire XVIII Airborne Corps, consisting of four divisions and other units, would be in Saudi Arabia, ready to defend that nation from attack.




By October, General H. Norman Schwarzkopf, commander of the U.S. Central Command and all Allied forces in Saudi Arabia, had enough troops to maintain a solid defense of Saudi Arabia. Schwarzkopf, however, soon realized that he needed more forces if the Allied coalition decided to drive the Iraqis from Kuwait. By 15 October, Schwarzkopf and his staff began formulating plans for a two corps attack. Less than a month later, President Bush announced the deployment of the U.S. Army's VII Corps to Saudi Arabia.

By the time Desert Shield became Desert Storm, the U.S. Army had seven divisions, two armored cavalry regiments, and hundreds of other combat and support units in Saudi Arabia. In addition to the Army forces sent to Saudi Arabia, the U.S. Navy deployed six carrier battle groups with several hundred aircraft. The U.S. Air Force sent over 1,000 fighter, bomber, tanker, and transport aircraft. In all, Schwarzkopf commanded fifteen divisions, including the 1st and 2nd Marine Divisions and several Allied coalition divisions.

The powerful VII Corps was comprised of several heavy armor units, including the 1st and 3rd Armored Divisions, 1st Cavalry Division, 1st Infantry Division (the famed "Big Red One"), 2nd Armored Cavalry Regiment, and the British 1st Armored Division. VII Corps' objective, once the ground war commenced, was to drive north 100 miles into Iraq and then wheel right and drive east, cutting off the Basra Road, the main route leading north from Kuwait City to Basra, Iraq, and the most likely escape route for fleeing Iraqi armor.

The XVIII Airborne Corps, on the left flank of VII Corps, would also drive north, pivot east farther north of VII Corps, and destroy what was left of the Iraqi ground forces.




As the build up of forces for Desert Shield steadily increased, MG Thomas G. Rhame prepared his 1st Infantry Division for war at Fort Riley, KS. During training, Rhame quickly realized that his cavalry squadrons were understrength and would be unable to effectively deal with Iraqi armored and mechanized forces. As a result, Rhame ordered that more armor be added to his cavalry squadrons. LTC Robert Wilson's 1/4 Cavalry, of which CPT Pope's Alpha Troop was a part, received M1A1 tanks while in Kansas and M3A2 Bradleys after the unit arrived in Saudi Arabia. Pope remembered the situation well: "We had formed the troop from scratch at Fort Riley six weeks prior. We were still putting personnel into the vehicles as we began the ground war."

Alpha Troop was one of four that made up 1/4 Cavalry. Pope commanded two platoons of six Bradleys each and one platoon of two Bradleys and three M1A1s.

The U.S. Army's doctrine for combat, better known as Air-Land Battle, called for speed and firepower coordinated with artillery and close air support. The weaponry of Pope's Alpha Troop, along with most of the U.S. Army's forces in Saudi Arabia, reflected this doctrine.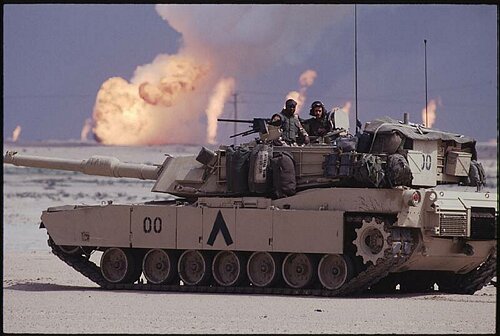 The M1 Abrams main battle tank and M2/3 Bradley fighting vehicles were the pride of the U.S. armored forces. First introduced to the Army in 1980, the Abrams received numerous upgrades to its weapons, armor, and electronics to ensure its superiority over Soviet armor. The A1 model included a 120mm smoothbore cannon, which replaced the original 105mm main gun, and additional armor added to the front. Another addition to the M1A1 was a new overpressure system that constantly blew air out of hatches and other openings in the tank to prevent contaminants from entering. This overpressure system was considered extremely important for the forces deployed to Saudi Arabia, since they faced an enemy that had employed chemical weapons in its war against Iran and against rebellious Kurds within its own borders. The Abrams had a crew of four: three men, the tank commander, gunner, and loader, in the turret, and one, the driver, in a compartment in the front of the tank.

The M2/3 Bradley was a companion to the Abrams. The M2 Bradley Infantry Fighting Vehicle (IFV) was a troop carrying version and was developed to replace the Vietnam War-era M113 APCs, which were considered too slow and too poorly armed and armored to accompany tanks directly into battle. The M3 Cavalry Fighting Vehicle (CFV) used the same chassis as the M2, but was designed as a scout/cavalry vehicle. Both carried a crew of three (commander, driver, gunner), but instead of carrying six dismounts like the M2, the M3 carried two scouts in the rear compartment, whose jobs were, explained Pope, "to dismount the Bradley in any action, check trenches or obstacles, and provide local security for the vehicles." Both the M2 and M3 were armed with a twin tube TOW missile launcher, 25mm Bushmaster cannon that fired armor piercing and high explosive rounds, and a coaxial 7.62mm machine gun. In addition, the Bradley was also equipped with night vision sights that gave the Bradley a distinct advantage over similar Iraqi vehicles.




It was this mixed force of Bradleys and M1A1s that Pope eventually commanded in training and battle through three countries in the Middle East. On 17 January 1991, as the Allied air forces began their attacks on Iraq and enemy forces entrenched in Kuwait, Pope intensified his troop's training. When the Allies launched the ground campaign on 24 February, he led his men through the Saddam line, Iraq's initial defense line comprised of trenches, minefields, and other obstacles.