---
To: Rokke
I suppose. But how often does a submarine use its periscope on the surface?
Again you are showing your ignorance of these things. A submarine almost always has its periscope up on the surface, especially in busy traffic areas. Both to keep track of surface contacts and navigation aides.
Here is the radar map, the 33 knot target is not TREPANG, or any other submarine. While submarines may be able to exceed 25 knots underwater, they are much slower on the surface.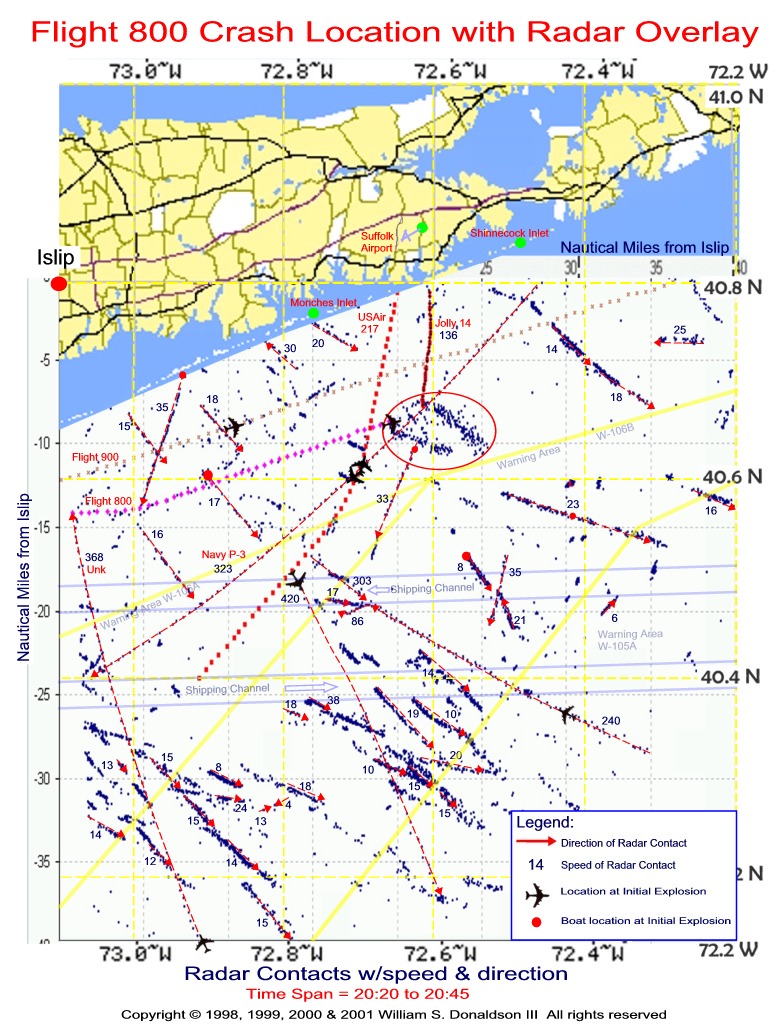 ---
To: SubMareener
Well you are correct that I am ignorant about many things concerning submarine operations. I think I made that clear when I asked you several questions earlier in this thread. Your expertise would have been incredibly useful in an earlier thread when several folks were arguing that TWA 800 was shot down by a submarine that subsequently left the area on the surface at 30 knots. Obviously, that theory is impossible, but I was labelled "a government shill" for saying so.
But your picture proves my point. The only track in the vicinity of the crash site is the 30 knot track directly below the crash area moving in a southwest direction. Beer's story places the Sub directly under TWA 800. Unless a surfaced submarine doesn't show up on radar, the only track that matches Beer's story is the 30 knot track. Therefore, either the Trepang is a lot faster than you remember, or Beer's story isn't accurate.

---
To: SubMareener
Nice graphic. Interesting article.

---
FreeRepublic.com is powered by software copyright 2000-2008 John Robinson