I'm a graduate theology student and I was very fortunate enough to have him to myself for two hours seven weeks ago - showing him around town.
Not at liberty to give out everything he said, but on the whole I came away very impressed by him. He has a great self-deprecating sense of humor and a feisty streak. Theologically he's essentially in the John Paul II mold, right down the line - though he openly admitted that he's not the intellectual that the Holy Father was.
He also seems likely to be a more hands-on administrator if he is elected.
Humorous anecdote. He was trying to pull the car seat forward but kept pulling the recline lever instead. Finally he figured it out. "Ah!" he exclaimed with glee. "Now I have discovered America!!!" You had to be there. I broke down laughing.
For those curious, here's an article I had published (written before my afternoon with him) on the Cardinal last month in our town and university newspaper, the Angelus:
---------
God's Invisible Hand: A Life of Cardinal Francis Arinze
By xxxxxxxx
ANGELUS March 2005
When one reviews the career of Cardinal Francis Arinze one is struck by not merely an extraordinary life but extraordinary paradoxes. He has dodged bombs and secret police and yet built one of the most vibrant churches in Catholicism. His most personal testimonies include presiding at the funeral of seven Trappist monks in Algeria decapitated by Muslim fundamentalists and yet for nearly two decades he won praise for his work conducting the Church's dialogue with Islam and other non-Christian religions. He grew up in a land where enculturation constantly challenged Catholic worship and yet now has the Vatican's top job in regulating and enforcing liturgical norms.
But then "extraordinary" is a label that seems unavoidable in discussions of Cardinal Arinze.
"He's very intelligent but in a gentle, smiling kind of way," says Ave Maria University provost Fr. Joseph Fessio. "He loves the Church, and he knows the tradition. He's just very perceptive."
Easily one of the Church's best known and charismatic leaders, Arinze is generally considered to be very much in the mold of – and a potential successor to - Pope John Paul II: a biography of triumph over adversity in a land where the Church and its members are frequently attacked and what journalist Gerard O'Connell has called a "meteoric rise" through the ranks. Yet Arinze is also much in his theological mold, combining a passion for social justice with an insistence on doctrinal and liturgical norms.
As with the Pope himself, this combination has made the cardinal no stranger to controversy. Last year Arinze made national headlines when his commencement address at Georgetown University was disrupted by several angry faculty members after he denounced an "anti-life mentality," consisting especially of abortion, contraception, divorce, euthanasia, pornography and same-sex marriage, which in the West had placed the family "under siege." Seventy of the faculty later signed a letter of protest – a jarring development showing how much has changed at one of America's oldest Jesuit universities in recent years and in the Church at large. According to Fr. Fessio the speech was planned to make such a statement – and elicit a reaction.
"This wasn't some faux pas on his part. He went there knowing what would happen," he said.
"That incident made clear what has been obvious for many years. There is a culture in the academy which has been hostile to the family for many years...what is basic Catholic doctrine shouldn't be a shock to them."
Throughout it all, however, Arinze remains an unflappable figure – thanks no doubt in no small part to the ups and downs of a long and extraordinary life.
Early Life and Career
Arinze, the third of seven children, was born on November 1, 1932 – All Saints Day - in Eziowelle, Nigeria. While his parents worshipped traditional Ibo deities, they sent Francis to an Irish missionary school Thanks to the inspiration of his mentor, Blessed Fr. Michael Cyprian Iwene Tansi (West Africa's first beatification), he had decided by age nine to be baptized and before long decided on a vocation in the priesthood. He entered the All Hallows Seminary (Ognissanti) of Nuewi at age fifteen, and taught there for an additional three years until 1953, when he began philosophy studies at Bigard Memorial Seminary at Enugu. In 1955 he traveled to Rome to take courses in theology at the Pontifical Urban University. Only three years later he was ordained to the priesthood.
He briefly returned to Bigard to teach liturgy, logic, and philosophy but before long was appointed as regional secretary for Catholic education for eastern Nigeria. He earned a diploma at the Institute of Pedagogy in London in 1964 before receiving a significant double appointment to the titular church of Fissiana, Nigeria and as coadjutor to the Archbishop of Onitsha on July 6, 1965, and was consecrated less than two months later – at the age of only 32. Two years later he took over the complete pastoral government of the archdiocese and was named archbishop on June 26, 1967, at the age of 34.
Arinze's ecclesiastical career in the 1960's was marked by extremes. He was appointed to the hierarchy in time to attend the last session of the Vatican II Council but also in time to steward his archdiocese through the horrors of the Nigerian civil war. Arinze dodged bombs and Nigerian security forces as a "fugitive bishop," in a harrowing period documented in Gerard O'Connell's recent book, God's Invisible Hand. When the smoke cleared, Arinze was left with the arduous task of rebuilding his diocese, one made especially difficult after the expulsion of all foreign missionaries from Nigeria. Nonetheless, under Arinze vocations and membership in Onitsha boomed in the postwar years.
His great success led to a flurry of new honors and appointments in subsequent years. In 1979 he was elected president of the Catholic Bishops' Conference of Nigeria. In 1982 he was elected vice president for Africa of the United Bible Society. Pope John Paul II was so impressed when he visited that year that in 1984 he named Arinze to head the Secretariat for Non-Christians (now the Pontifical Council for Interreligious Dialogue), and created him cardinal the following year in the 1985 consistory.
Pontifical Council for Interreligious Dialogue
If indeed the threat of Communism was the great challenge for the Church in the 20th century, many have come to think that its relationship with Islam may be its challenge for this century. For nearly two decades, Cardinal Arinze served as the Church's point man on this front.
Taking its cue from the Council's declaration Nostra Aetate, the Council for Intereligious Dialogue has the difficult task of undertaking study and dialogue with non-Christian and non-Jewish religions. For Arinze, this meant a heavy schedule of meetings with a host of imams, mullahs, lamas and building respectful dialogue while at the same time maintaining the Church's line on doctrine.
By and large, Arinze managed the balancing act with plaudits from inside and outside the Church – no mean feat in places like his native Nigeria, where religious clashes frequently lead to bloodshed. In1999 he received a gold medallion from the International Council of Christians and Jews for his "outstanding achievements in inter-faith relations".
Congregation for Divine Worship
On October 2, 2002, Pope John Paul II nominated Cardinal Arinze to his most formidable assignment yet: Prefect of the Congregation for Divine Worship, which stands just fourth in the curial hierarchy.
One of the better known curial offices, the Congregation for Divine Worship and the Discipline of the Sacraments has been in existence as currently constituted for only 36 years but has roots going back much further. It has responsibility to regulate and promote the sacred liturgy, primarily of the sacraments - though without prejudice to the competence of the Congregation for the Doctrine of the Faith. In the wake of Vatican II and its liturgical reforms, the office has quickly become one of the most important – and unenviable – congregations in the curia.
Although Cardinal Arinze has been prefect for little over two years, he has energetically overseen its efforts to address growing concerns over practices and abuses in the liturgy – the most notable effort being last year's Redemptionis Sacramentum. It also helped to clarify an issue especially of concern to Cardinal Arinze: how enculturation may take place acceptably within the liturgy.
According to Fr. Fessio, Arinze, like his predecessor, shares concerns about what has happened to the liturgy in recent years. "The Cardinal has the same orientation as Cardinal Medina," he said. There's no question about the fact that he appreciates tradition. It would have been a stronger document had it not been bounced around to so many congregations."
"It was a compromise document."
Curial membership:
Doctrine of the Faith, Oriental Churches, Causes of Saints, Evangelization of Peoples (congregations) Laity, Christian Unity, Culture (councils) International Eucharistic Congresses (committee) Ordinary Council of the General Secretariat of the Synod of Bishops
Special Council for Africa and Special Council for Lebanon of the General Secretariat of the Synod of Bishops
Created and proclaimed Cardinal by John Paul II in the consistory of 25 May 1985, of the Title of S. Giovanni della Pigna (deaconry raised pro hac vice to presbyteral title on 29 January 1996).

Theologically he's essentially in the John Paul II mold, right down the line - though he openly admitted that he's not the intellectual that the Holy Father was.
Thank you for sharing that amusing incident with the car.
For those who may have missed it, Cardinal Arinze appeared recently as a guest of Raymond Arroyo on EWTN. Like JPII, he is straightforward with his responses. Here are some excerpts, compliments of Lifesite.net.
* * * * *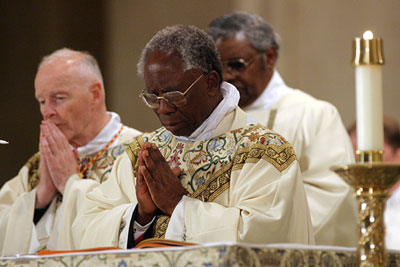 Arroyo questioned the Vatican Cardinal saying: "Last year, you were asked at a press conference whether a politician, a Catholic politician who supports abortion publicly should be permitted to the Communion rail, should be permitted to receive Communion publicly. What is your response to that?"

Cardinal Arinze responded, "The answer is clear. If a person says I am in favour of killing unborn babies whether they be four thousand or five thousand, I have been in favour of killing them. I will be in favour of killing them tomorrow and next week and next year. So, unborn babies, too bad for you. I am in favour that you should be killed, then the person turn around and say I want to receive Holy Communion. Do you need any Cardinal from the Vatican to answer that?

Laughing, Arroyo responded, "It should be pretty transparent." To which the Cardinal concluded, "Simple, ask the children for First Communion, they'll give you the answer."

Similarly, Cardinal Arinze ruled out Communion for homosexual activists.

Arroyo noted that while some US bishops have refused Communion to Rainbow Sash activists, others such as Archbishop Harry Flynn of Minneapolis - St. Paul have not. Flynn, after meeting with Cardinal Arinze in Rome recently, suggested that the Cardinal was open to allowing communion for Rainbow Sash activists.

Arroyo first confirmed the meeting with Archbishop Flynn took place. "Did such a conversation take place between you and this archbishop?," asked Arroyo, to which Cardinal Arinze responded, "Yes."

Arroyo followed with "And were you open to allowing this group to receive Communion as he inferred in some of the newspapers."

The Vatican Cardinal responded, "No, no. You see, let's get it clear. These rainbow sash people, are they really saying we are homosexuals, we intend to remain so and we want to receive Holy Communion. The question arises; take the Catechism of the Catholic Church. It says it is not condemning a person for having homosexual tendency. We don't condemn anybody for that. But a person stands condemned for acting on it."

On homosexuality the Cardinal was clear. "The Catholic Church has never accepted homosexuality as normal. You read the scripture. It's very clear. What exactly are we examining? Are we going to change Divine Law, how God made us?"