---
Fred Phelps FReeped at Bethesda Naval Hospital
5/1/2006 | PleaDeal


Posted on 05/01/2006 6:47:02 AM PDT by PleaDeal

Thanks to alert FReepers who heeded the call to action, Phelps' Phreakshow did not go unopposed this Saturday at the National Naval Medical Center in Bethesda, Maryland.

FReepers in attendance: Kristinn, Cindy_True_Supporter, Trooprally [Mr. and Mrs.] who brought James and Nancy, Albion Wilde, DollyCali with FReepups Josie and Toby, Wheelbarrow, BufordP, Sauropod, Helllinahandkart, Bill from MD*, Bert, Mindi (PW), IraqiKurd and friend Samir, Exit148, ProtestMania, BStein80, Laruen (PW), BillF, Hoodlum91, RockInRight, and PleaDeal.

I counted 19 members of Rolling Thunder headed by our good friend Smitty, but I think there were a few more.

The plan was to be there before the devil spawn arrived and set up our pro-Troops flags and banners. Trooprally [Mr. and Mrs.] were among the early arrivals and give this account:
---------------------------------------------------------------------------------------------------------------------------------------------

We arrived on the side road off Jones Bridge Road around 11:40 AM in time to see Kristinn & BufordP on the same road getting ready to cross over Jones Bridge to the Bethesda Naval Medical Ctr. side (BNMC). A quick beep stopped them. Good thing to, because we arrived in Cindy_True_Supporter's car loaded for bear and we needed help carrying everything. We had the new MOABII, the red banner, a dozen flags and bags full of signs.

The police were already there setting up. They blocked the right turn lane on Jones Bridge Road to go north on Wisconsin Avenue. The Park Police had their mounted police unit there. The Montgomery County Police even had their riot control unit there. After the protests and counter rally started, they marched south on the west side of Wisconsin Ave., but I think you were there for that.

The five of us loaded up and proceeded up to the corner to cross. Imagine five of us, both arms loaded up, walking up to the intersection with staggered distances between us. As we were crossing Jones Bridge Road (From the SE corner to the NE corner) we noticed several of Phelps inbred clan on the NW corner.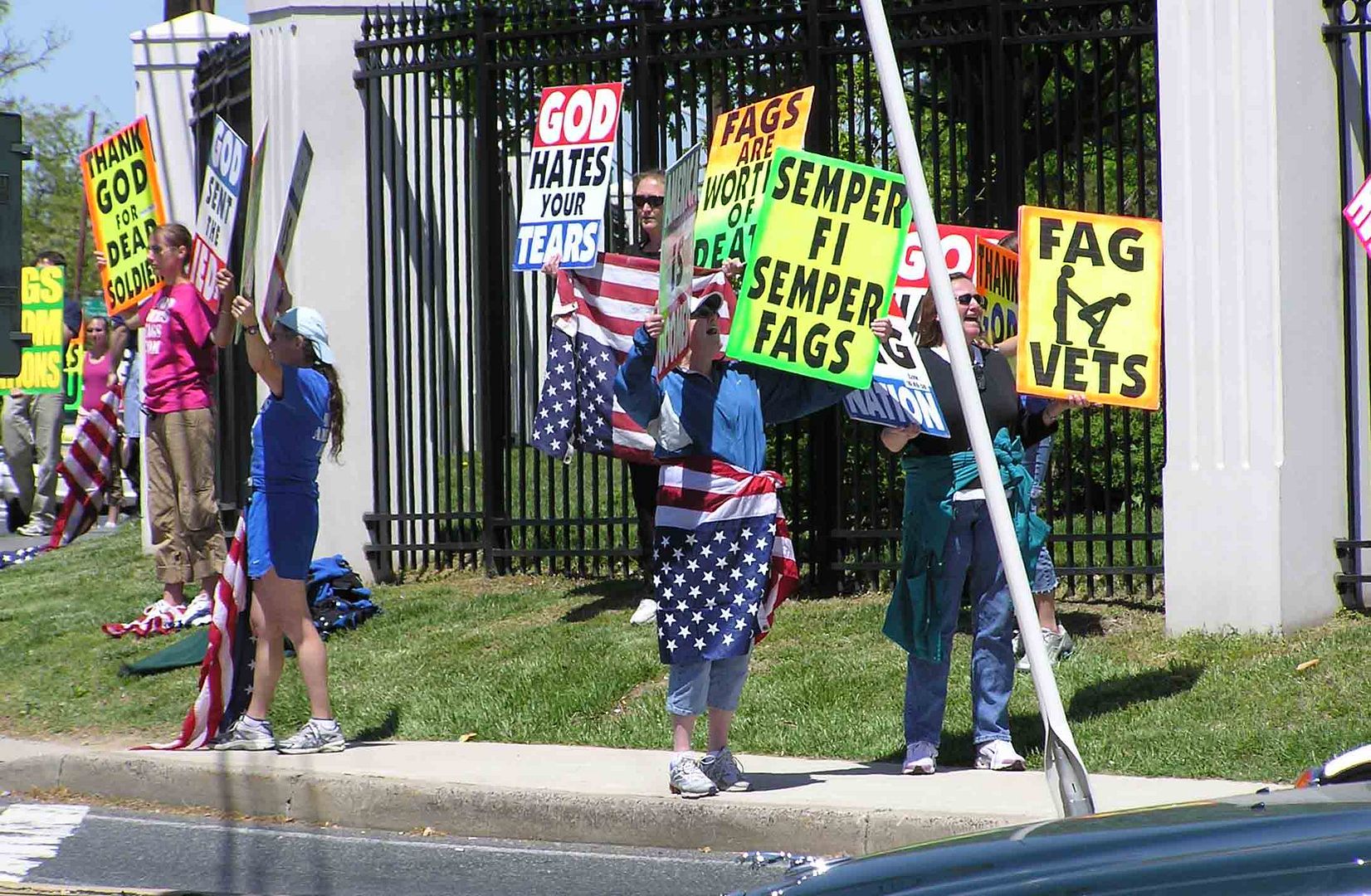 We immediately located an officer to let them know that we were there. We were also immediately disappointed because of their layout for us. We were denied the ability to set up on Jones Bridge Road. Then they said that Phelps were going to be at the NE corner and we were positioned up at the main entrance, at least 700 feet north and just over the crest of Wisconsin.
Cops, Cops and more Cops!
Six legged Cops

SWAT Cops

Bike Cops

Even MPs on a grassy knowl.

DollyCali getting "SWAT"ted
BufordP and I "discussed" the location with the police. My arguement about also being positioned on Jones Bridge Road so we could flank Phelps, and to be a lot closer to Phelps to counter his message, fell on deaf ears.
Maybe the police thought that BufordP was the "Good FReeper" and I was the "Bad Freeper" because BufordP won out. The police let us set up about 200 feet north of Phelps on Wisconsin Avenue.
But the police cautioned us about what would happen if we were to set foot on the other side of their newly strung yellow police tape.
Lurker Bill showed up around this time and we set up MOABII, the red banner and the flags.
Our crowd was still fairly sparse when Phelps' clan finally started their crap.
From the North flank, the several people up there held their signs towards the cars coming south on Wisconsin Avenue. This allowed the cars to know who we were.
I meet some people that came from this direction. One soldier (female in civilian clothes) from BNMC came by. I believe she was a nurse or medical person of some sort. Kristinn might know. I directed her to the flags and signs but she seemed content in just Thanking our group for being their.
Another, a Marine in civilian style camouflage shirt and jacket came by. I directed him to the signs and flags. He grabbed a sign and stayed for about half and hour.
A young couple from Gaithersburg, MD happened to learn about Phelps' demonstration on his web site. They came down to see what it was all about. Again I directed them to the signs and flags. They went and saw Phelps' group, then grabbed some signs and helped on the North flank. They also stayed for about half an hour.
A group of FReepers stayed to break down the flags. Since the police had already gone, we had Cindy_True_Supporter get her car and park where we were. Her car was loaded in 5 seconds because the six of us remaining grabbed the FR stuff and through it into her car. Then the three of us were off to Olney's FReep.
---------------------------------------------------------------------------------------------------------------------------------
Now for the Phreaks.
| | | |
| --- | --- | --- |
| Photo by Sauropod | | |
This photo shows a man who I think may be the "Reverend". Not sure.

Anyone else see him? or can verify his presence?
These are some sick freaks. Not a lot I can add since the pics pretty much say it all.

------------------------------------------------------------------------------------------------------------------------
It was a great day for a FReep, though. Lots of sun, low wind, temps in the high 60's to low 70's. There was DC Avon Walk for Breast Cancer at the same time and it was kinda eerie seeing all the pink-clad people walking right past the Phreaks and then by us on their route. I talked with a few of them while photographing the Phreaks and all of them were aghast at the phreakish behavior and signs. Bert, up from NC, couldn't help but note that we were continuously getting honks of support from the passing motorists.
| | | |
| --- | --- | --- |
| Isis getting a bug's eye view | | RT's Smitty |
There was lots of "small time" press, including a photographer named Isis. She's an admitted "lefty" but a very nice lady, nonetheless. Check out Isis's work on her blog Isis Imagery. There was a crew from inside the hospital compound who were students and/or faculty from the military institute (can't find link to it). The leader "Terry" spent most of his time down with the Phreaks, but the others stayed and interviewed the pro-troops folks.
| | | |
| --- | --- | --- |
| Christisan, Lauren and Edward came down from Messiah College in PA. | | Tim, BStein80 and Evan. Evan and Tim are two OIF Vets who also joined us Friday at Walter Reed. |
| | | |
| --- | --- | --- |
| Cindy-True-Supporter | CTT, Kristinn and Trooprally [Mr.] | Sauropod |
| | | |
| --- | --- | --- |
| Wheelbarrow and FReepups | Trooprally [Mrs.] and Isis | Turn blocked off so traffic couldn't pass Phreaks. |
---
TOPICS: Activism/Chapters; Culture/Society; Government; News/Current Events; US: District of Columbia; US: Maryland; US: North Carolina; US: Pennsylvania; US: Virginia; War on Terror
KEYWORDS: aar; bethesda; counterprotest; dcchapter; fredphelps; gwot; phelps; troopsupport
---
Navigation: use the links below to view more comments.
first 1-50, 51-100, 101-127 next last
---
---
---
---
---
---
---
---
---
---
---
---
---
---
---
---
---
---
---
---
---
---
---
---
---
---
---
---
---
---
---
---
---
---
---
---
---
---
---
---
---
---
---
---
Comment #44 Removed by Moderator
---
---
---
---
---
---
---
Navigation: use the links below to view more comments.
first 1-50, 51-100, 101-127 next last
---
---