---
To: Shots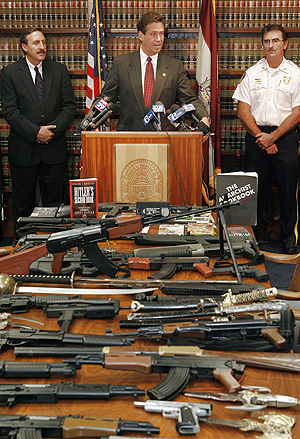 This is what he had collected up until this point
---
To: Shots
See Post #10.
With the exception of the Hi-Point 9mm carbine, those are all Airsoft Replicas.
---
To: Shots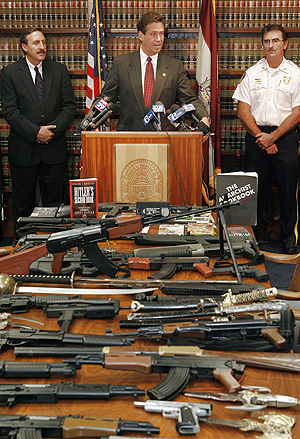 This is what he had collected up until this point
So what's the problem with collecting again?

36
posted on
10/11/2007 2:41:37 PM PDT
by
Centurion2000
(False modesty is as great a sin as false pride.)
---
To: Shots
You know, looking at the pic in #8 reminds me of something that happened in Hawthorne, CA some years ago.
The newspaper had a story about a gang-related raid on a home that netted cash, drug paraphernalia, and a firearm. They went in on an anonymous tip.
Next day they expanded the story to include a picture of three policemen in BP vests. On the table (the kitchen table of the raided house I think) was a small bundle of bills and a roll of aluminum foil (the heavy duty type preferred by druggies and relapsed turkey cookers). The cop in the foreground was holding a paintball gun.
The story had the added fact that the cash was "discovered stashed in a locked cash box".

---
FreeRepublic.com is powered by software copyright 2000-2008 John Robinson