---
Proof Hucakbee is lying about the moving cross
myself | Dec 20, 2007 | Travis McGee


Posted on 12/20/2007 8:59:16 AM PST by Travis McGee

"THE TODAY SHOW"

MEREDITH VIEIRA: Let's talk about this Christmas ad, because it comes after you have taken some hits from the critics, first for calling yourself a Christian leader, then for questioning whether Mormons believe Christ and the devil were brothers, something you did apologize for.

Now in this ad you are say people should be celebrating the birth of Christ while the shape of a cross appears to take shape behind you. And that has led some to say that this is another overt religious appeal to voters. What do you say about this ad and about those criticisms?

MIKE HUCKABEE: That floating cross is a bookshelf, Meredith. We were all amused -- the production crew I think probably more than anyone, who put the spot together.

VIEIRA: So you didn't see that image when you put the spot together, that it might be confused?

HUCKABEE: Absolutely not.
---
These are movie camera "tracking dollies."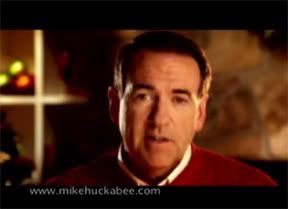 There are two reasons to use tracking dollies when directing a film. The most basic use is when following a moving subject and keeping them in the same plane. The classic use is to follow a walking actor in profile.
The other use of the tracking dolly is to move the background in a controlled way, while keeping the foreground subject in one place by simultaneiously tracking and panning the camera.
That is how the Huckabee team contrived and executed the shot, in order to move the glowing white (spotlighted) shelf/cross from the left side of the shot to behind Huckabee's head, in exactly the 30 seconds of the ad.
The use of the tracking dolly is the smoking gun, the proof that the moving cross effect was deliberate, and that Huckabee is lying about it being an unnoticed coincidence.
They didn't just come out and "find" that a tracking dolly had magically appeared on the set, and decide, "Aw shucks, why don't we stick the camera on this here funny contraption, and slide it from left to right while aiming at Mike's head, just for the heck of it."
Every aspect of this political advertisement was deliberate, down to the placement of the three ornaments on the glowing white spotlighted empty shelf.
The proof that the moving cross effect was deliberate, is the use of the tracking dolly to move the cross in the background in a perfectly controlled way.

---
TOPICS: Politics/Elections
KEYWORDS: ads; cross; huckabee
---
Navigation: use the links below to view more comments.
first previous 1-20 ... 181-200, 201-220, 221-240, 241-259 last
---
---
---
---
---
---
---
---
---
---
---
---
---
---
---
---
---
---
---
---
Navigation: use the links below to view more comments.
first previous 1-20 ... 181-200, 201-220, 221-240, 241-259 last
---
---