---
To: stickman20089
Just What Did Obama Know About Wright's Past Sermons? (Plenty)
"Barack Obama either agreed with what was preached from the Trinity pulpit, or he tuned it out and stayed around pretending to for political reasons. To say he stayed for 20 years but doesn't agree with Wright's preaching is incredible denial. It'd be like a man buying White Sox season tickets for 20 years, attending the games, and saying he's not a fan."
Obama's supporters want us to ignore this story… just push it under the rug. While they'll align Republicans with any obscure pastor who does or says something controversial, they're trying to convince us that Obama's 20-year long close relationship with Wright, including his effective endorsement of him, his church and rhetoric with a $22,500 donation in 2006 is irrelevant.
"When Obama decided against wearing an American flag pin, we may all have been a bit too quick to accept his rationale, too quick to find that issue unimportant. Now, that American flag pin has gotten a lot bigger for a lot of us, especially in light of what may have been and may still be Obama's deeper, and, perhaps, secret, less than patriotic beliefs about America."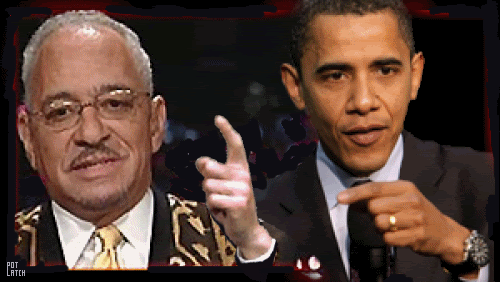 "Wright says that blacks can't be expected to sing God Bless America because of racism. Obama doesn't salute the flag during the National Anthem. That sure strikes me as an amazing coincidence since Obama swears he never heard Wright say anything against America."
10
posted on
03/15/2008 4:11:18 PM PDT
by
Grampa Dave
(Hussein ObamaSamma's Pastor, Jeremiah Wright: "God Damn America, U.S. to Blame for 9/11")
---
To: Grampa Dave
Your compilations are fabulous...
51
posted on
03/15/2008 4:58:18 PM PDT
by
ErnBatavia
(...forward this to your 10 very best friends....)
---
To: Grampa Dave
71
posted on
03/15/2008 8:36:12 PM PDT
by
The Mayor
(The purpose of prayer is not to get what we want, but to become what God wants.)
---
FreeRepublic.com is powered by software copyright 2000-2008 John Robinson