---
To: LdSentinal
Obama belongs to a "Black Liberation Theology" Church that is FOUNDED on the hatred on Whites.

He followed a Pastor for 20 years who is the most ignorant, racist, America-hating hate-hustler this side of Louis Farrahkan.

He spent much of his early adult life smoking dope, snorting cocaine and being mentored by unabashed COMMUNISTS and protege's of Saul Alinsky.

He married an America-hating Black-Radical who followed the writings of Stokley Carmichael and the Black Panthers of the 60's and who, based on her embarassingly narcissistic and academically sophomoric Princeton thesis, should never have been allowed to graduate high school let alone get into Princeton.

He took money from known TERRORISTS who were part of the Weather Underground.

He maintained close personal and financial ties with a corrupt convicted Chicago crook named Tony Rezko who bailed him out of financial trouble, bought him a home and then got convicted of extortion, fraud and money laundering.

He WHINED about being asked "like eight questions" at a simple press interview while trying to convince America that he's competent enough to be PRESIDENT OF THE UNITED STATES.

He somehow managed to serve as President of Harvard Law Review without ever publishing a even SINGLE piece of written work.

He even wrote a book describing how he "found a solace in nursing a pervasive sense of grievance and animosity against my mother's race."

He'll even throw his own grandma from the train for political expediency and say that she's just a "typical White person" who was "bred" to harbor racist views.

All that yet he refuses to wear a pin with the American flag on it because he thinks THAT sends the wrong message.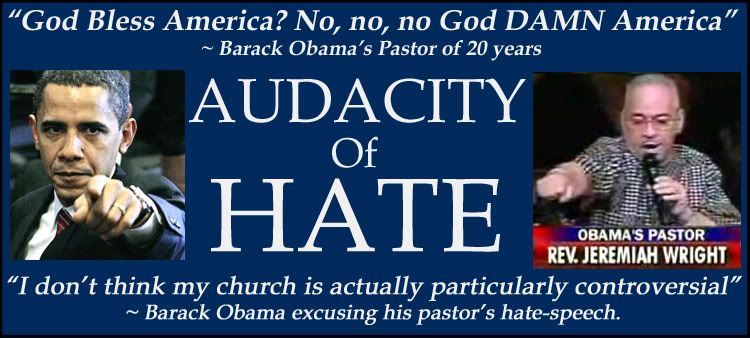 ---
To: The_Macallan
Quite a litany of egregious and dangerous facts. My question is, why do so many people still like (adore might be a better word) Obama? Is it because the MSM is not getting these facts out clearly, or that people know but half of America is actually unAmerican?
---
FreeRepublic.com is powered by software copyright 2000-2008 John Robinson