Funny you mention the May Day Rally in SF in 1969 cause I was there that day. When they announced that "Pig Brodnik" had been beaten to death by a bunch of "Latino brothers", much of the crowd cheered.
Did they actually say 'beaten' to death? (if you can recall from 39 yrs ago) Because in the piece I got off the Maoist Internationalist Movement website, which supposedly appeared in the BBP's own newspaper at the time, they said he was shot to death. Or did they (the Latin group), perhaps, shoot him after they had already beaten him to death?
From the Maoist Internationist Movement:
[1960s] Black Panther Party [BPP] Archives
From the article: REVOLUTIONARY HEROES
"On May 1st, May Day [1969], the day of the gigantic Free Huey rally, two of Alioto's top executioners vamped on the brothers from the Brown Community who were attending to their own affairs. These brothers, who are endowed with the revolutionary spirit of the Black Panther Party defended themselves from the racist pig gestapo.
Pig Joseph Brodnik received his just reward with a big hole in the chest. Pig Paul McGoran got his in the mouth which was not quite enough to off him.
The revolutionary brothers escaped the huge swarm of pigs with dogs, mace, tanks and helicopters, proving once again that "the spirit of the people is greater than the man's technology."
To these brothers the revolutionary people of racist America want to say, by your revolutionary deed you are heroes, and that you are always welcome to our camp."
Source: Maoist Internationist Movement
Article: REVOLUTIONARY HEROS (May 11, 1969):
http://www.etext.org/Politics/MIM/bpp/index.html
___________________________________________________________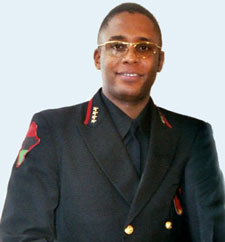 2005: From the Louis Farrakhan / Nation of Islam website, Final Call...
Malik Zulu Shabazz, chairman of the New Black Panther Party for Self-Defense (NBPP):
"We are happy today to be standing side by side with the Nation of Islam. We believe, like the Nation of Islam and the Honorable Elijah Muhammad believe, in a nation of our own. We believe in a Black first philosophy and a Black Liberation Theology. We don't worry about the criticism. We love all of those who labored in the Panther Party from the '60s. Many are with us today."
http://www.finalcall.com/artman/publish/article_1858.shtml
This New Black Panther Party endorsement was actually up on Obama's website for some period of time. They have since removed it. Anyone know more about this?
From the extreme left Huffington Post:
"In what must be the most despicable, unprofessional news article that I have ever read on Faux News... The front page of FoxNews.com shows an article titled 'Obama Gets 'Panther' Ok'. They point to a public profile set up by somebody claiming to be a member of the New Black Panther Party who supports Barack Obama.
Here's the problem- anybody can set up a profile and blog on the my.barackobama.com section of the website claiming support of Obama. There is no way to tell if this came from the 'black panther party', and even if it did, Obama's campaign has absolutely nothing to do with it, no control of it, and no knowledge of it when it is posted."
http://www.huffingtonpost.com/2008/03/20/fox-news-publishes-false-_n_92526.html
Comment: First of all, the leader of the New Black Panther Party ("For Self Defense"), himself, states that they, like the Nation of Islam, are subscribers to Black Liberation Theology, which then would be the same ideology taught in Obama's 'former' church. So why would it 'shock' anyone if the NBPP was in fact endorsing Obama? He was a member of the 'church' for twenty years before he just now suddenly 'woke up' and quit a month or so ago.-ETL
___________________________________________________________
Louis Farrakhan, at the annual Saviours' Day celebration in Chicago, Feb. 25, 2008: "This young man is the hope of the entire world that America will change and be made better"..."If you look at Barack Obama's audiences and look at the effect of his words, those people are being transformed."
Source: http://abcnews.go.com/US/wireStory?id=4337417
Louis Farrakhan, at the Millions More Movement rally in DC, Oct 15, 2005: "...what Mao Tse Tung did was, he went to the cultural community, and they [Farrakhan spreads his arms beneficently] accepted his idea."..."Mao Tse Tung ... had a billion people whose lives he had to transform."..."the idea of Mao Tse Tung became the idea of a billion people, and China became a world power on the base of the culture and the arts community. If we had a ministry of art and culture in every city we'd create this movement [in the U.S.]."
Source: http://thedrunkablog.blogspot.com/2005/10/communist-plot-noted.html
Louis Farrakhan, Santiago de Cuba, February, 1998: "There is not a member of the black masses in the United States who is not proud of the example set by Cuba and its revolution, with Comandante Fidel at its head"
Source: http://www.fiu.edu/~fcf/farakhan21898.html#says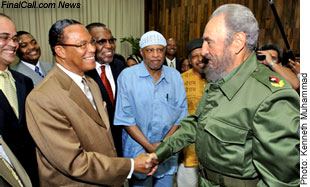 "Minister Farrakhan and his delegation met privately with President Fidel Castro of Cuba."
http://www.finalcall.com/media/cuba/
Rev. Dr. Jeremiah A. Wright, Obama's pastor and spirtual advisor "crazy uncle" of more than 20 years, honors "Honorable" Minister Louis Farrakhan with the "Jeremiah A. Wright Lifetime Achievement Trumpeteer Award" at the 2007 Trumpet Gala held at the Hyatt Regency Chicago.
[it appears the original video was removed, but this one is identical to it]
http://www.youtube.com/watch?v=jW2OhkZ0RSg