---
To: thinkingIsPresuppositional
On Abortion:
According to the CDC, 1,450 Black children are aborted each day in the United States. Since Roe v. Wade, more than 14 million Black babies have been killed in the Black woman's womb. More than twice as many Blacks have died from abortion than from heart disease, cancer, accidents, violent crimes and AIDS combined. Black American babies account for 40 percent of all abortions in America.
How does Obama's position on abortion reflect the plight of Black American babies?
Obama, who received a 100 percent rating from NARAL in 2005, 2006 and 2007,
criticized the U.S. Supreme Court ruling for upholding the ban on partial-birth abortion. While serving in the Illinois State Senate, Obama was the ONLY state Senator to speak on the floor against the Born Alive Infant Act. The legislation was proposed in 2001 in response to nurses' depositions saying that babies born accidentally during abortions were allowed to die of neglect in utility closets. The United States Senate, before Obama was a member, passed legislation with identical language 98 to 0.
2
posted on
08/19/2008 8:41:39 AM PDT
by
nmh
(Intelligent people recognize Intelligent Design (God).)
---
To: nmh
Combine his stance on the Born Alive act with his "above my pay grade" answer at Saddleback. Anyone who thinks that the morality surrounding infanticide is above his pay grade doesn't have far to step to get to full blown genocide. This about his hero, Che Guevara.
5
posted on
08/19/2008 8:45:51 AM PDT
by
cake_crumb
(Terrorist organizations worldwide endorse Obama.)
---
To: nmh; cpforlife.org
---
To: nmh; antonius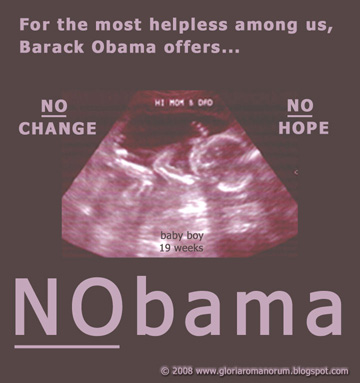 ---
FreeRepublic.com is powered by software copyright 2000-2008 John Robinson