---
Joe Klein: 'Obama is the precise opposite of Mountain Man Todd Palin'
NewsBusters ^ | September 11, 2008 | P.J. Gladnick


Posted on 09/11/2008 5:26:10 AM PDT by PJ-Comix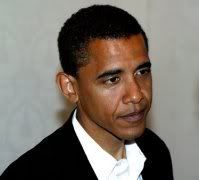 Remember all those months of the MSM building up the myth of Barack Obama, the Lightworker of unique spiritual powers whose image was frequently photoshopped to present his blessed head surrounded by a halo? Well, now Time magazine columnist, Joe Klein, is upset that Americans are supporting Sarah Palin because of another "myth" of a small town frontier America. Those who create the myths really shouldn't be complaining about what they perceive as myths but that is exactly what Klein does in his column (emphasis mine):
Sarah Palin has arrived in our midst with the force of a rocket-propelled grenade. She has boosted John McCain's candidacy and overwhelmed the presidential process in a way that no vice-presidential pick has since Thomas Eagleton did the precise opposite — sinking his sponsor, George McGovern, in 1972. Obviously, something beyond politics is happening here. We don't really know Palin as a politician yet, whether she is wise or foolhardy, substantive or empty. Our fascination with her — and it is a nonpartisan phenomenon — is driven by something more primal. The Palin surge illuminates the mythic power of the Republican Party's message since the advent of Ronald Reagan.
(Excerpt) Read more at newsbusters.org ...
---
TOPICS: Politics/Elections
KEYWORDS: barackobama; joeklein; mccainpalin; obamabiden; sarahpalin; toddpalin
---
Navigation: use the links below to view more comments.
first 1-20, 21-40, 41-56 next last
---
---
---
---
---
---
---
---
---
---
---
---
---
---
---
---
---
---
---
---
---
Navigation: use the links below to view more comments.
first 1-20, 21-40, 41-56 next last
---
---