---
To: Syncro
Glad to see people
stand up for Gitmo!
This anti-war counter-protester pictured below figured out the timing of an orange-clad moonbat march and had a sign ready. When they came marching by our 9/11 troop rally, he marched in front of them. Only when they got back to their little protest group did he turn and show them the sign. He told me their expressions were priceless.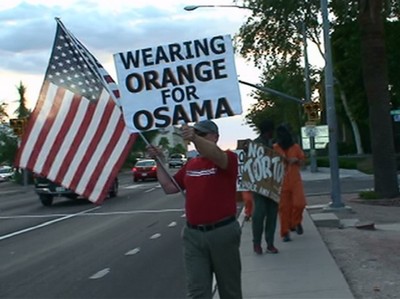 But many FReepers have seen that photo. So why mention it again? Because there is an update. This Vietnam Vet and brilliant counter-protester pictured above re-upped to the US Army recently and deployed to Iraq where he is currently serving. God bless you, Bob and may He also protect and guide you.
5
posted on
12/19/2008 9:50:22 AM PST
by
\/\/ayne
(I regret that I have but one subscription cancellation notice to give to my local newspaper.)
---
To: \/\/ayne
My webhost has a temporary technical problem so here's another copy of the photo from post 5 until it comes back up again.
7
posted on
12/19/2008 8:56:42 PM PST
by
\/\/ayne
(I regret that I have but one subscription cancellation notice to give to my local newspaper.)
---
FreeRepublic.com is powered by software copyright 2000-2008 John Robinson