---
My grandfather, who is going to turn 80 this year, still insists that Idaho passing right to work 25 years ago was the worst thing to happen to this state. He's supposed to be a conservative, but often I wonder if he really is or not. I have usually heard two stories from him:
1-When grandpa was in the operating engineers union back in the day, that union supposedly had a Republican's meeting every month and that according to him, the union's are only corrupt and Democrat fundraising arms "back East".
2-He also insists that when he was still in the construction industry 25 years ago, laborers, operators, etc. were making somewhere in the neighborhood of $25/hr and after it was passed, wages went down to $8/hr.
So any of you who were older than I was at the time (I was 4 when the law was passed), your insight would be greatly appreciated.

---
To: GOP_Raider; Chief Engineer; Delphinium; EternalVigilance; Keyes2000mt; Sir_Ed; ...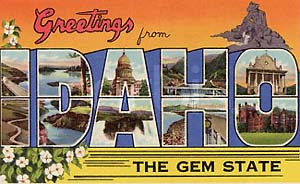 The FR Idaho Ping List
FReepmail GOP_Raider to be on or off this list
2
posted on
08/05/2010 11:24:14 AM PDT
by
GOP_Raider
(Please consider the logging and timber industries when printing this tagline)
---
To: GOP_Raider
Too bad this cannot be a national law. No one under any circumstance in any job should be FORCED to pay union dues as a condition of employment. Since pretty much everyone who isn't a useless drain on society needs to work, I regard forced union membership as a form of slavery, and hence, it it should be illegal.
If unions want to show that they are worth the dues paid, then perhaps they should do it like any other business seeking payment does, offer a product or service worth buying.

3
posted on
08/05/2010 11:30:10 AM PDT
by
pnh102
(Regarding liberalism, always attribute to malice what you think can be explained by stupidity. - Me)
---
To: GOP_Raider
The opening paragraph begins with a term that is soon headed for total meaninglessness, along with others that the liberals have used to death.
"Polarizing figure." Like it's wrong to be polarized, to have at least two philosophies that remain true to their principles.
I think we should be polarized. Of course, the liberal implication in using the term is that we should all be united, but only on the liberal point of view. So, any dissent or opposing philosophy becomes polarization.
Polarization is evidence of true diversity. People have a choice to allow themselves to polarize on issues or not. The more the better.
Celebrate diversity. Support polarization.
---
To: GOP_Raider
I have worked with Gary Glenn, and I can tell you that he is one of the brightest, most dynamic, and capable grassroots organizers in America today. He is the best — pure and simple, no one else even close.
Had Americans for Limited Government put him in charge of its state political operations instead of the out-of-control drunk they handed it over to (the guy who single-handled destroyed the Hoffman campaign in NY23 among about a dozen others), ALG would now have the top campaign groups in every contested state and district in the country.
America needs Gary Glenn!!!
---
FreeRepublic.com is powered by software copyright 2000-2008 John Robinson