---
Walter Reed, Week 293, November 26, 2010, Thanksgiving Weekend…….
November 30, 2010 | carykoki


Posted on 11/30/2010 10:11:56 AM PST by kburi

…..arrived, finding many wounded warriors off post for a long weekend. There was no Friday night dinner and therefore, no bus. The DC Chapter of Free Republic maintained its presence for the 293rd consecutive Friday night.

Mrs Trooprally reported the minutes for this After Action Report:

" After Thanksgiving, when everyone was stuffed with turkey, eight of us managed to get off the sofas and brave the elements. We were in good spirits and had great conversation. But, it was darn cold. 3D-Joy missed the cold so much that she came for a visit from Florida. Lurker Bill set up his portable heater and made certain 3D-Joy stayed warm.

IMACMAN arrived to fill in the Holiday gap, and was a pleasant surprise. It was an early night since there was no bus. The weather was not bad unless the wind picked up. But compared to last year, it felt like Spring. 2ndhandRose and Lurker Rick were waiting arrived at Walter Reed early and greeted us. TammyCat brought Idaho for a visit and enthusiastically gave her hoops and hollers at all the passing cars. Traffic was light but, people still waved and honked galore.

One young guy stopped and asked what we were doing. Both IMACMAN and Trooprally explained our purpose and invited him to join us. Trooprally had his usual corner tonight, and 2ndHandRose had RonG's corner and she always had company. Most everyone had hot coffee and double chocolate brownies with icing and walnuts, courtesy of Mrs Trooprally. All in all it was a good night. We hope all had a safe and wonderful Thanksgiving. "

IMACMAN Says It All!
3D-Joy, Hot Coffee and Heater Make it Just Like Florida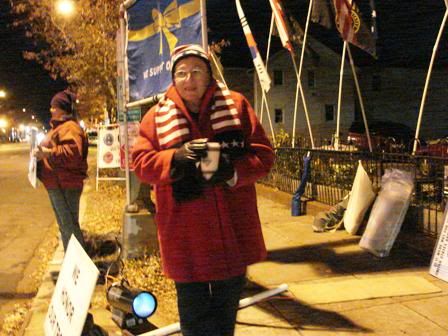 HONOR ROLL for November 26, 2010
Mr and Mrs Trooprally, 3D-Joy, TammyCat and Idaho, Lurker Bill, IMACMAN, 2ndHandRose and Lurker Rick
FOOTNOTES
• Seven moonbats tonight
The DC Chapter invites you to join us every Friday night between the hours of 6:30pm to approximately 9:30pm.
---

If you can't get to D.C. to join us but would like to do something for the wounded, you can find a wealth of ideas by FReepmailing Tom the Redhunter, Cindy-True-Supporter, VAFlagwaver, or PleaDeal. Directions to our Walter Reed freep location from the Takoma metro station

BufordP's Walter Reed FReep archive

November 26, 2010 Photos, (courtesy of Mrs Trooprally)

Trooprally
TammyCat
2ndHandRose
Lurker Rick
Lurker Bill
---
TOPICS: Activism/Chapters; Free Republic; US: Maryland; US: Virginia
KEYWORDS: aar; military; walterreed
---
---
---
---
---
---
---
---
---
---
---
---
---
---
---
---