---
To: Bobbisox
LOL.
While I like Rick S. well enough, I agree with what you said.
Next payday Newt gets ANOTHER donation from us.
---
To: Ladysforest
Emails cost nothing. Contact the RRNC. There are also activities that can be done to help him at the link below the shirt.
After NV
Delegate tally approximately
Romney 51 Newt 45
when FL vote divided per RNC rules!
Pass the word!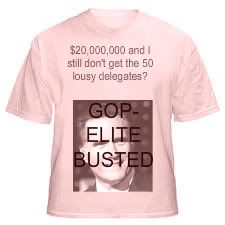 CLICK TO DONATE TO NEWT
CONTACT FOR RNC:
website@nrcc.org
310 First Street
Washington DC 20003
Encourage them to do the RIGHT thing: end the FL fiasco NOW!
Play by RULE 15:B:2
6
posted on
02/08/2012 5:45:58 PM PST
by
hoosiermama
(Stand with God and Sarah, the Gipper and Newt will be standing next to you.)
---
FreeRepublic.com is powered by software copyright 2000-2008 John Robinson