---
To: SJackson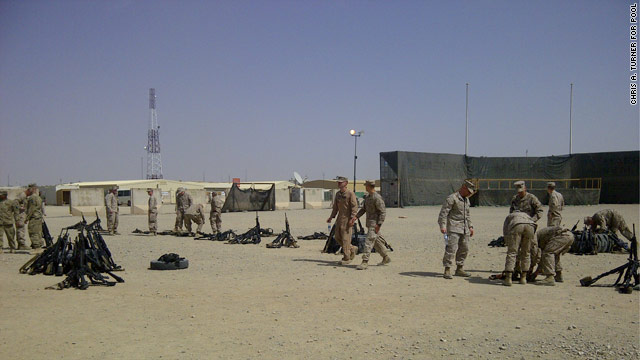 23
posted on
03/14/2012 4:30:09 PM PDT
by
SJackson
(The easiest way to find something lost around the house is to buy a replacement)
---
To: SJackson
OMG. That picture is worth thousands of words..none of which I can utte in a public forum.
59
posted on
03/15/2012 3:45:29 AM PDT
by
SueRae
(Tale of 2 Towers - First, Isengaard (GOP-e), then, the Tower of Sauron on 11.06.2012)
---
To: SJackson
The most shameful and disgraceful picture I've ever seen in my seventy-two years.
The story weakly defends this outrageous demand on our defenders of freedom - in a war zone - with, "...."You've got one of the most important people in the world in the room....".
Says who !?!?
This spineless commie dares spit on the very men and women he and his bozo boss are asking to give their life, limb and mental health !!!
For what ??? Policies he put in place which were the foundation for refusing medical treatment to a brain injured 38 year old soldier on the front line.
This gutless wonder now taints a likely - and unfair - court marshal of a disabled warrior, before it is even assembled - urging it to weigh the death penalty as a proper punishment !!!
Little wonder he fears a room full of Marines, let alone a room full of Marines with weapons !!!
Will the Pentagon's perfumed princes forever place politics above honor ???
Will GOP presidential candidates rise to question the grave mistreatment of a warrior already physically and mentally harmed in pursuing his duties ???
Will GOP presidential candidates rise to put a halt to Panetta's fear and prejudice against our warriors pledged to defend and protect the Constitution ???
As taxpayers we can only wait and see.
God save us from ourselves.

60
posted on
03/15/2012 7:33:03 AM PDT
by
Robert Drobot
(Fiat voluntas tua)
---
FreeRepublic.com is powered by software copyright 2000-2008 John Robinson