---
Proposed Suffolk budget gives city manager 21% raise
The Virginian-Pilot ^ | April 7, 2012 | Jeff Sheler


Posted on 04/07/2012 8:11:12 AM PDT by csvset

SUFFOLK

City Manager Selena Cuffee-Glenn would get a 21 percent raise next January, bringing her salary to $183,492, under the budget she sent to City Council this week.

Most department heads also would get hefty raises in a proposed overhaul of the city's compensation system that is aimed at making salaries competitive with other localities in the region.

Teachers, meanwhile, would stand to lose a proposed 2 percent raise if the city goes ahead with plans to cut $4 million from the schools' budget request.

The school division also sent layoff notices to 89 school employees this week in response to the funding shortfall.

At least one City Council member said he thinks the city manager is well deserving of such a sizeable raise.

"She's been very efficient and effective," Vice Mayor Charles Brown said. "She should have been making this years ago."

The salary changes are part of a revised compensation plan recommended by a consulting firm after a six-month study last year. The company, Management Advisory Group Inc., of Woodbridge, found Suffolk's pay lagging other localities in the region by 3 percent to 9 percent. Senior management, the firm said, trailed the worst.

Under the budget proposal, Cuffee-Glenn's salary would increase on Jan. 1 to $183,492 from $151,410. City Attorney Helivi Holland, hired in February at $124,988, would receive $169,877. City Assessor Jean Jackson, appointed last summer at $90,000, would be paid $110,500.

Overall, about two-thirds of the city's 1,200 employees would see their pay go up next year. City employees last received a pay increase in 2008.

The proposed compensation plan sets a minimum, mid-range and maximum pay level for each job classification. Department heads, many of whom now make between $100,000 and $117,000, would be eligible for a new maximum of $152,300.

Senior firefighters would max out at $58,789 and senior police officers could get up to $67,308.

Several council members said while they support the overhaul, they plan to take a close look at the details.

"I think it puts us to the right track to solving some of the morale problems among city workers," Councilman Mike Duman said. "But I have a lot of questions about some of the specifics, and I hope I get some decent answers."

Councilman Robert Barclay said the pay increases "would be more of a concern if we had to come up with a lot of new money to pay for it. But we're doing it with existing dollars."

Mayor Linda Johnson said she has not had time to study the plan.

"But I think everyone needs to be compensated fairly for what they do. This is what the study has come up with. What the council does with it is the next step."

A public information meeting on the proposed $173.5 million city budget is set for Wednesday. There's a public hearing on April 18, and a council vote is scheduled on May 2.

Jeff Sheler, 757-222-5563, jeff.sheler@pilotonline.com

---
TOPICS: Crime/Corruption; Government; US: Virginia
KEYWORDS: cashcow; feed; trough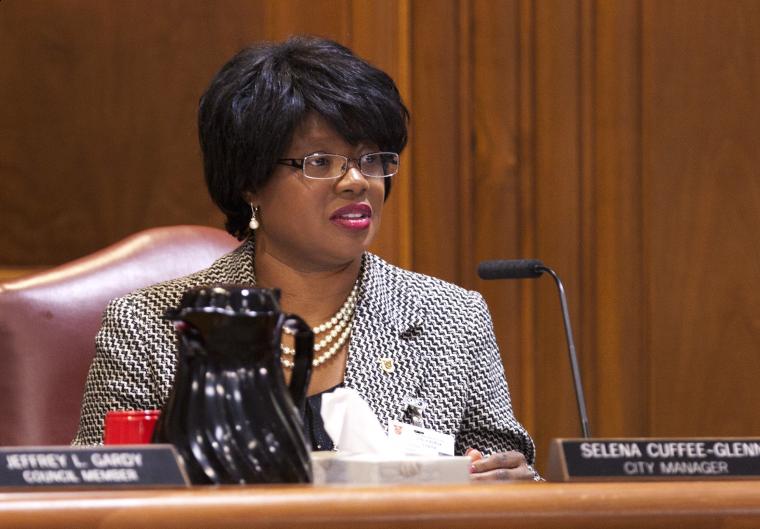 Selena Cuffee-Glenn, Suffolk city manager during a Suffolk City Council meeting March 07, 2012 in Suffolk. (L. Todd Spencer | The Virginian-Pilot)
I'm all for folks getting raises if they merit them. Raises just to "keep up with the Joneses" , (other city managers, etc), in these times is theft.

---
To: csvset
Ah.. Local government politics. I am running for County Supervisor in Mohave County p, AZ. The things I am finding out are incredible. But it's our fault, the taxpayers. We just turn the other way.
2
posted on
04/07/2012 8:15:20 AM PDT
by
Hildy
("When the debate is lost, slander becomes the tool of the loser." - SocratesHill not text while dri)
---
To: csvset
It's not the $4 shrimp, it's the million dollar cocktail sauce.
3
posted on
04/07/2012 9:00:08 AM PDT
by
blueunicorn6
("A crack shot and a good dancer")
---
To: csvset
1200 employees??? This isn't one of the roaring metropolises out there. Good lord even the 151000 she currently makes would put her into the 1% catagory. This is nuts! People go to work for the government to get rich off of outher people's work.
---
To: csvset
"When the people find they can vote themselves money, that will herald the end of the republic."
- Benjamin Franklin
Everywhere you find a corrupt electorate that does not value work, you will find overpaid "public servants" elected to run the gravy train and distribute the plunder. Suffolk's black majority has elected a corrupt local government that holds its productive private sector hostage and plunders the fruits of its geographically-fixed maritime industries. I doubt Ms. Selena Cuffee-Glenn or her any of her top five lieutenants could earn such generous salary and retirement packages if they had to compete in the private sector. To these people, the private sector exists only to feed the government and the majority of voters.
Benjamin Franklin was right.

---
FreeRepublic.com is powered by software copyright 2000-2008 John Robinson