---
Interview With Harold Koh, Obama's Defender of Drone Strikes
http://www.thedailybeast.com/articles/2012/04/08/interview-with-harold-koh-obama-s-defender-of-drone-strikes.html ^
Posted on 04/10/2012 6:46:08 PM PDT by kcvl
Harold Koh, who once called Bush the "torturer in chief," has become one of President Obama's fiercest defenders of aerial drone strikes.

(Excerpt) Read more at thedailybeast.com ...
---
TOPICS: News/Current Events
KEYWORDS: drones; dronestrikes; haroldkoh; sourcetitlenoturl



---
State Department legal adviser Harold Hongju Koh was savage during policy debates about aerial drones and other issues in the early days of the Obama White House. "It was, 'Jane, you ignorant slut,' " recalls Gen. James Cartwright, the former vice chairman of the Joint Chiefs of Staff, referring to Dan Aykroyd in the 1970s Saturday Night Live television-debate parodies.
"Everybody hated him," says Cartwright, describing how Koh would rip into him and other people: "He would say, 'Oh, you military guys, you're just so stupid.' " Koh got so worked up during the meetings that he did not win people over, he just got them mad, and afterward, recalls one of his friends, he would rant about what people had said. At the time, Koh described drone strikes as "extrajudicial killings," says Cartwright, and even the most diplomatic interlocutors, such as a former U.N. legal counsel who tussled with Koh recently when he was on a panel in Washington, says he can be "a little bit impolite."
---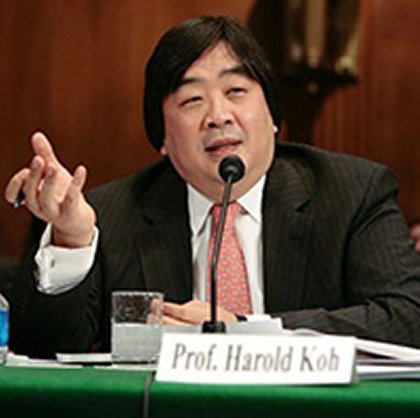 Another damn professor.

---
To: kcvl
Any RC guy can build a drone.
4
posted on
04/10/2012 7:46:51 PM PDT
by
bunkerhill7
(Eye in the sky?? Who knew?)
---
To: kcvl
Proof that if you're an a$$, and you kiss too much a$$, you start to look like an a$$.
He said Bush's waterboarding was torture, but it's OK to kill Americans and their 16 year old sons by drone attack (OH. so sorry about the son....)

5
posted on
04/10/2012 10:00:15 PM PDT
by
VanShuyten
("a shadow...draped nobly in the folds of a gorgeous eloquence.")
---
FreeRepublic.com is powered by software copyright 2000-2008 John Robinson