Oh, yes. The Christian/Newsome murders:
According to the testimony of the Knox County Acting Medical Examiner Dr. Darinka Mileusnic-Polchan at the subsequent trial of Eric Boyd, Newsom was repeatedly sodomized with an object and then blindfolded, gagged, arms and feet bound and his head covered. Barefoot, he was either led or dragged outside the house to a set of nearby railroad tracks. He was shot in the back of the head, the neck, and the back, and his body then set on fire.
Channon's death came after hours of sexual torture, medical examiner Mileusnic-Polchan testified. Channon suffered horrific injuries to her vagina, anus and mouth. She was not only raped but savaged with "an object," possibly a broken chair leg, the doctor testified. She was beaten in the head. Some type of chemical was poured down her throat, and her body, including her bleeding and battered genital area, likely scrubbed with the same solution – all while Channon was alive, the forensic expert said. She was then "hog-tied," with curtains and strips of bedding, her face covered tightly with a small trash bag and her body stashed inside five large trash bags before being placed inside a large trash can and covered with sheets. Channon died slowly, suffocating, the medical examiner said.[6]
http://en.wikipedia.org/wiki/Murders_of_Channon_Christian_and_Christopher_Newsom
Channon Christian, Christopher Newsome
Feral black thugs who tortured, raped and murdered the young couple
And don't forget the Wichata Massacre:
The Carr brothers, 22-year-old Reginald and 20-year-old Jonathan, already had serious criminal records when they began their spree.[4] On December 8, 2000, having recently arrived in Wichita, they committed armed robbery against 23-year-old assistant baseball coach, Andrew Schreiber. Three days later, they shot and mortally wounded 55-year-old cellist and librarian, Ann Walenta, as she tried to escape from them in her car; she died three days later.
Their crime spree culminated on December 14, when they invaded a home and subjected five young men and women to robbery, sexual abuse, and murder. The brothers broke into a house chosen nearly at random where Brad Heyka, Heather Muller, Aaron Sander, Jason Befort and his girlfriend, a young woman identified as 'H.G.', all in their twenties, were spending the night. They initially scoured the house for valuables. In a much-remarked point of tragedy, H.G. learned of Befort's intent to propose marriage when the Carrs, by chance, discovered the engagement ring hidden in a can of popcorn. After the search, the Carrs forced their hostages to strip naked, bound and detained them, and subjected them to various forms of sexual humiliation, including rape and oral sex.[4] They also forced the men to engage in sexual acts with the women, and the women with each other. They then drove the victims to ATMs to empty their bank accounts, before finally bringing them to a snowy deserted soccer complex on the outskirts of town and shooting them execution-style in the backs of their heads, leaving them for dead. The Carr brothers then drove Befort's truck over the bodies.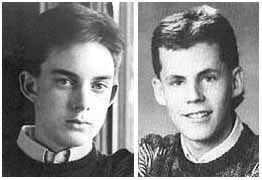 Victims of Wichita massacre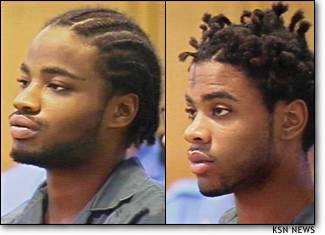 Car brothers
Both cases were covered up by the MSM and by the authorities. In both cases, the authorities refused to list these atrocities as hate crimes.
Not one of these animals has been executed for their henious crimes.