---
To: SeekAndFind
If Romney was challenged by a convict, well.......
---
To: stevecmd
I'm not laughing at the Felon winning 41% in West Virginia over Obama. In South Carolina 2010, Jim DeMint easily defeated an unknown challenger for the Senate named Alvin Greene ( an unemployed veteran who lives with his father ).
The surprise was not that Greene lost. The surprise was he got nearly 30% of the vote !! Which only proves that South Carolina is in sad shape when a person with a borderline personality disorder can run for office and receive that much support at the polls.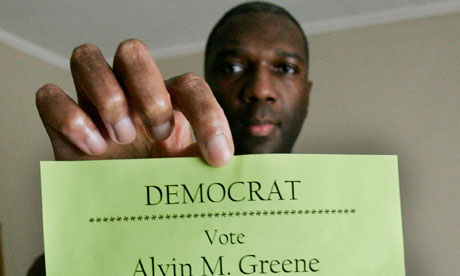 ---
To: stevecmd
This is pretty funny. Romney almost surely would have lost the West Virginia primary (judging by the closeness of neighboring Ohio) had he been running against
any
credible opposition.
Still, Mitt won by 10 points better than BO, who had no credible opposition.
Bottom line: While Romney may generate little voter enthusiasm, BO generates downright visceral hostility.

7
posted on
05/09/2012 6:45:21 AM PDT
by
Vigilanteman
(Obama: Fake black man. Fake Messiah. Fake American. How many fakes can you fit in one Zer0?)
---
To: stevecmd
Obama will not carry WV, nor will he carry NC. Anyone telling you otherwise is smoking some very good ganja.
Short of some drastic change in the political landscape between now and november, Obama will not get more than low 40s of the popular vote.
Not only this, but it will be a very very bad night for democrats across the country, not just the president.
The democratic senators who voted for Obamacare must finally face the electorate. GOP without question will take the senate, and very likely get a filabuster proof majority of it.
Every poll I've seen for 6+ months when I've looked into the numbers shows the electorate has concluded the 2008 election of this doofus was a horrible mistake and they will by and large crawl over broken glass to send him packing. There is no enthusiam for this joker at all, just the same old hired mob.
We are looking at a possible routing the likes of which we haven't seen since Mondale, and possibly since McGovern. Obama is looking at high 30s to low 40s on election night folks. And the more obvious it is he's going to lose, the nastier and more petty he's going to get, because he is indeed a small petty man, and that's going to turn into a self feeding circle down the drain.
This election is flat out a referendum on Obama.. just like 2008 was one on Bush. And he's going to lose, and lose horribly.
He will lose by the largest margin of any incumbent president since Carter, but Carter was in a 3 way race. His routing I suspect is going to be unprecidented for an incumbent in the modern age.
---
To: stevecmd
Well, Romney did get arrested for that boating incident in 1981, so...
34
posted on
05/09/2012 8:16:05 AM PDT
by
RightFighter
(It was all for nothing.)
---
FreeRepublic.com is powered by software copyright 2000-2008 John Robinson